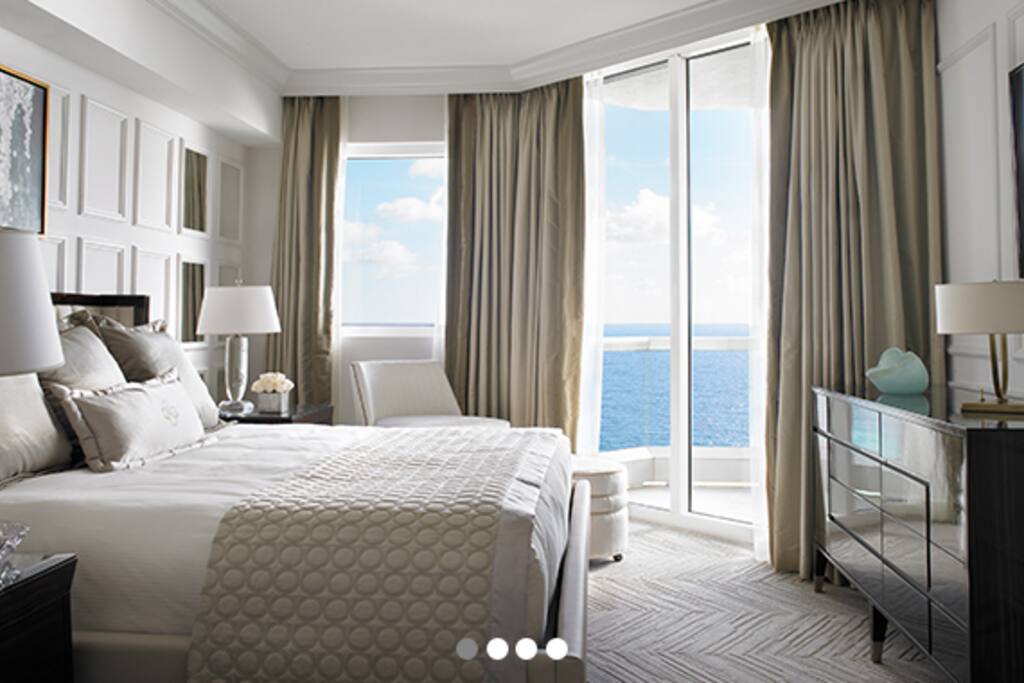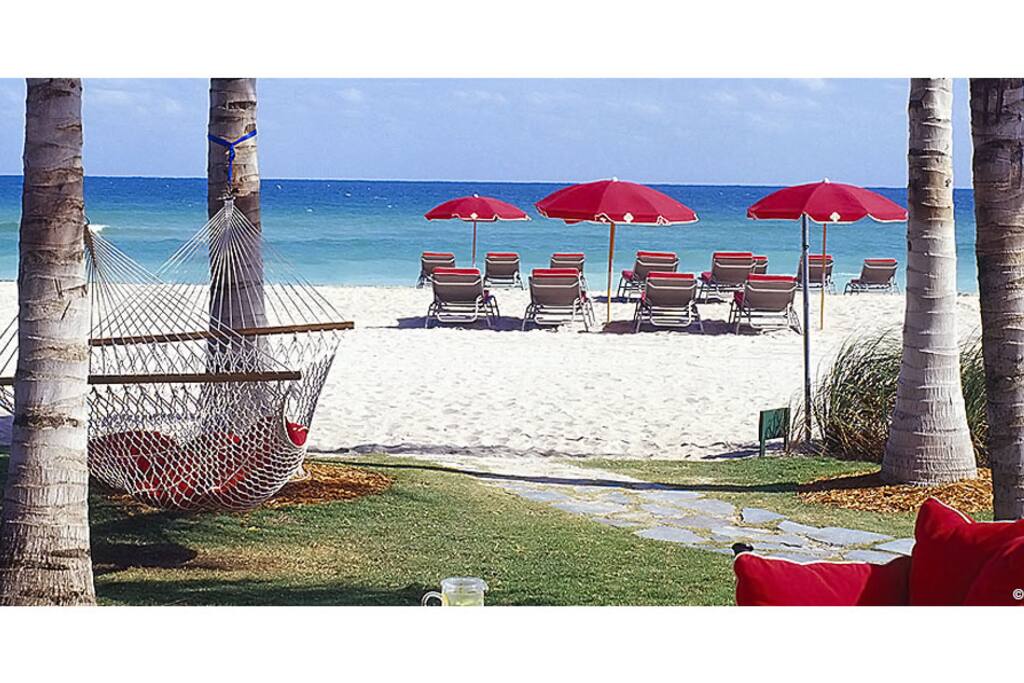 Experience Acqualina 5 Star Forbes luxury resort directly on the pristine beach. Professional designer decorated with all high line finishes.Direct Ocean Front unobstructed breathtaking sun rise/sun set views from both bedroom/living room Very large 2035 sq ft. sun filled condo in a full service building with pool, spa,beauty salon, restaurants in Sunny Isles Beach Florida's Riviera.Very safe and family friendly environment with all the hotel amenities.Parking and beach service included.
Жилье
Very limited availability contact host, advance booking suggested.
Pamper yourself because you deserve the best.
Optional: Housekeeping not included and offered as an optional service
Enjoy total privacy and breathtaking views from the extra large balcony directly facing the ocean. Sun filled unit from the morning sun rise to evening sun set.
This is a non smoking unit, smoking on the premises is not allowed.
The three bedroom suite consists of a master suite and adjoining junior suite. There is one king size bed in the master-bedroom. There is one king size bed in the junior suite bedroom plus a full size pull out sofa bed in the adjoining area partitioned by french doors. The bedrooms have balconies master bedroom directly facing the ocean, the other bedrooms facing the inter-coastal waterway.
Living room also has a pull out sofa for two adults and is also ocean front.
Fully equipped kitchen with deluxe appliances, dining area is also ocean front.. Luxurious bathrooms both with double vanities and separate showers and whirlpool tubs.
Luxury linens and start up toiletries.
Доступно гостям
Building is directly on the beach with direct beach access.
Beach service such as chairs, lounges and umbrellas are included free of charge. Daily maid service available for additional charge
Use of Pool and pool area lounges are provided free of charge.
Business center which provides computer/printing services is available to guests free of charge.
Gym is available to guests free of charge.
Fishing pier with restaurant within 10 minute walking distance.
Internet WIFI
Cable TV
Другие важные подробности
A credit card and ID will be required by the hotel at the time of check in without exception and a hold will be placed on the card determined by length of your stay by Acqualina reception.
No pets allowed.
No smoking allowed.
A fee $500 if house rules are broken.
$156.18 exit cleaning fee and $14 per day utility fee, is not included in the price but will be collected by the hotel. A daily cleaning may be purchased for $111.18 per day for the duration of your stay which includes new linens and turn down service
Is it possible to send packages ? NO
---
---
Спальня 1
1 кровать King Size
Спальня 2
1 кровать King Size
Спальня 3
1 сдвоенная кровать
Зоны общего пользования
1 сдвоенная кровать
---
Без вечеринок и мероприятий
Время прибытия — после 16:00
- The guest is required to have a cell phone that works in USA when they arrive in USA to call from airport.
Guests that do not speak English must have WiFi enabled smart phone that works in USA for communicating purposes. If guests can not comply with these rules they will forfeit their reservation.
A major credit card will be required at the time of check in.
- A $250.00 hold will be placed as security. Guest is required to go over any charges placed on the credit card by the hotel prior to checking out.
- Any mini bar, restaurant,spa, telephone and etc. purchases are the responsibility of the guest.
- This is a private unit, No smoking or pets allowed. a fine will be imposed of$500.00
RENTAL TERMS AND CONDITION
The apartment is individually owned. Please read the following Terms and Conditions.
1. Rental period
1.1 Rental begins: 4 p.m. on arrival date. Please send your arrival time so we can prepare for your arrival.
If you would like to be guaranteed an early check-in, we suggest you reserve the Property starting the day before your arrival.
If no one is vacating the Property the morning you arrive, you may be able to check in before 4pm. Please send an email 2 days before your check in date, if early check in is possible, confirm your early check in for an additional U$ 50.00 fee.
1.2 Rental ends: 11 a.m. on departure date
Official check-out time is 12:00am. We can occasionally accommodate late check-outs but it has to be approved in advance. Please email us 2 days before your check out date to see if It is possible a late check out, if it is approved with an extra cost of U$ 50.00. Please note: We will not be held responsible for any last-minute changes in check-in or check-out times. If you have not reserved the Property for additional days in order to be guaranteed an early or late check-in or check-out, please consider any exceptions made to the official check-in or check-out times tentative and subject to last minute change.

2. We sometimes can give you instructions so you can check in by yourself.
3.1 The Renter will be held responsible for communicating accurate arrival information. The Renter will be held responsible for any fees resulting from a last-minute change or delay that is not communicated in advance.
When confirming arrival and check-in times please ensure that the arrival time and date have been correctly communicated. If the Renter is delayed in arrival, or if the Renter has made any mistake in communicating the arrival date and/or time the renter will be held liable for any costs or delays incurred.
We will explain any notable Property or building particularities
Troubleshooting by phone issues in the Property during the Rental Period
Arranging for any necessary repairs or interventions
My responsibilities do not include:
Concierge-type requests (restaurant or taxi reservations, etc)
Physical interventions in the Property that are due to a fault of the Renter
4. Rental Fee
Any additional fees such as early check in will be paid in cash to the greeter upon arrival.
4.1 The Rental Fee includes:
Occupancy of the Property for the specified time period.
All utilities, but no telephone service.
Bed linens
Housecleaning after your stay
5. Payment of the Rental Fee
5.1 No rental is confirmed until the Renter makes full payment for the rental.
6. Maximum Occupancy for this unit is six individuals.
6.1 The Renter agrees that the number of people occupying the Property at one time will not exceed the maximum occupancy indicated for the Property. If it is determined the maximum occupancy was exceeded the rental agreement will be terminated and the renter will forfeit the full rental payment.
6.2 If the Renter would like to invite additional guests to stay in the Property during the Rental Period, the Renter must provide notice and pay any applicable extra fees.
6.3 The Renter will personally occupy the Property for said dates and shall NOT sub-let the Property under any condition.
6.4 The Renter will not hold any group gathering or event in the Property for which the number of attendees would exceed the Property's maximum occupancy.
6.5 The Property may not be used for commercial purposes. Commercial purposes include, but are not limited to: professional appointments, meetings, gatherings, showrooms, product display or demonstrations.
6.6 Renter shall be quiet and respectful of neighbors at all times. This includes no excessive noise in the Property or common areas including, but not limited to, stairwells, elevators, courtyards, or building entry.
6.7. No guest under the age of 21 will be permitted to occupy unit unless accompanied by an adult. A bond of $2000.00 may be required for group bookings.
PROHIBITED. If the renter uses the property for a function, a party or other like gathering or other than as a residential dwelling for residential purposes:-
(a) Your reservation of the property will be terminated. `
(b) The Guest(s) and other occupants of the Property will be removed from it. (c) The Guest(s) agrees to pay an additional Tariff for un-used nights.
EXCESS NOISE: Excess noise or behavior which is threatening or excessive to neighbors will not be tolerated. We ask that children in your group refrain from playing in the stairwells, car park area and driveway as this could be dangerous for them. Guests that are making excess noise or damaging a property can be given 3 warnings and be asked to leave the property and no monies will be refunded to the guest.
7. Smoking
7.1 The property is a Non smoking unit. The Renter shall not smoke or allow visitors to smoke inside the Property or in the common areas of the building. Smoking is permitted, when indicated as such by notice at the Property, in outdoor spaces (balcony, garden) located in the Property.
7.2 The owner shall not be held responsible for any smell of smoke detected in a Property if the smoke originates from adjacent units, the building common areas, or the street.
8. Cancellation by Renter
8.1 In case of cancellation beyond 30 days before arrival, U$ 100 for cancellation fee will be applied. In case of cancellation less than 30 days before arrival 100% of the already collected rental fees will be retained. If you shorten your stay, the unused portion of your rental is not refundable.
9. Cancellation by Owner
9.1 In the unlikely event that owner is unable to provide the Renter with the Property originally reserved, all money will be refunded to the renter.
9.2 It is also understood that owner may terminate this Agreement upon two (2) days notice via email, fax or telephone to the Renter in the event of the nonpayment of the Rental Payment due hereunder.
9.3 In the event owner is unable to fulfill its obligations hereunder by reason of any law or ordinance frustrating or preventing the consummation of the transactions contemplated herein, owner shall promptly refund all deposits made hereunder and neither party shall thereafter have any further obligation to the other.
10. Construction in Building or Environs
10.1 Owner offers single unit in a residential buildings. Owner does not have control over construction or renovation plans undertaken by owners of other properties in the building or in adjacent buildings. Owner also does not have control over public works that may be underway around the building in which the Property is located. Owner shall not be held liable for reparations or refunds claimed for disturbance due to construction occurring in proximity to the Rental Property.
10.2 In the event of a construction project occurring in a nearby apartment, the building, nearby building, or Sunny isles beach .Owner agrees to inform the Renter, as soon as owner has been informed of the situation and work within our means to make you as comfortable as possible. Please note that the city of Miami often does not alert the neighborhood of upcoming work.
11. Sound or Noise Disturbance
11.1 Owner cannot be held responsible for any sound or noise disturbances that occur outside of the Rental Property. Owner strives to present accurate and detailed Property descriptions, including ordinary noise levels around the Property when applicable. Owner encourages all potential guests to familiarize themselves with the rental Property they are considering through said descriptions, former client reviews in order to fully understand the levels of sound or noise, whether perceivable from within the building or outside on the street, associated with that Property. .
11.3 Owner will not be held responsible for reparations and will not offer a refund for any such noise disturbances that occur outside the Rental Property.
12. Lost Items
12.1 Owner, the Greeter, Owner and Cleaning Team will not be held responsible for any items forgotten or left in the unit after the Renter's departure.
12.2 If lost items are recovered, we can arrange to have the items returned at the Renter's cost, including all shipping fees.
13. Telephone and Cable Television
13.1 The Telephone service is provided at guests expense paid to the hotel.
13.2 The Renter shall not subscribe to any additional cable services.
13.3 Any charges incurred through Television or Cable use not included in the basic package provided will be deducted from the Renter's Security Deposit.
14. Equipment Breakdowns
14.1 Owner shall not be held responsible for any breakdown of mechanical equipment in the Property or any common areas of the building in which the Rental Property is located (for example: heat, elevator, electricity), nor for failure of public utilities (for example: water, gas, cable, electricity).
14.2 If such an issue occurs, the Renter should notify Al of any problem as soon as it is identified. Every effort will be made to rectify the situation in a timely manner.
15. Internet and Computer
15.1 A wireless Internet service is provided for the Renter's use.
15.2 If the Renter requires personal technical assistance to connect to the Internet through the Renter's personal computer, charges for this service will be collected directly from the Renter and paid to the greeter.
15.3 Please note: Internet/cable connections in Miami do experience interruptions. The Owner will not be held responsible for a non-functioning Internet/cable connection for any reason, but will use all means possible to remedy any technical issues that arise during the Rental Period to the best of our ability in a timely a manner as is possible. Renters will not be provided any refunds based on non-functioning Internet/cable connections.
16.1 The Property will be thoroughly cleaned before the start of the Rental Period. The Renter is required to leave the Property tidy upon departure. If any cleanliness issues are noted upon arrival, the Renter should notify Al as soon as possible so that the situation can be resolved.
16.2 There will be a final cleaning after check-out. If the Property has been left in such a condition that extra time is required to return the Property to a clean state, the Renter will be held liable for the additional cleaning time.
16.3 Any reports of unsatisfactory cleanliness of premises must be reported. Please place rubbish in the correct bins. Larger items not able to fit in these bins must be disposed of at the local rubbish dump at your own expense.
16.4 Bed Linen, blankets, pillows, bath towels and a hand towel are provided in our apartments. Beach/Pool towels are supplied at the lower level. We includes a "starter pack" (paper towel, toilet paper , soap, shampoo , dishwashing liquid. We include this "starter pack " for your first day , additional items can be purchased from the nearby supermarkets. Our housekeeper has prepared your apartment to a high standard. We ask in turn that you show consideration by being neat and tidy, placing wrapped garbage in the bins provided and washing, drying & putting away dishes.
17.Allergen Requirements
If you have any specific allergies or sensitivities, please let us know.
In general, our properties are not fully outfitted with hypoallergenic pillows, duvets or allergen-friendly cleaning products on hand. Should you require hypoallergenic bedding and linens, please let us know before you finalize your reservation so that we can determine whether we would be able to accommodate your request and quote you a price for providing these amenities. Please note, though, that we cannot guarantee that we can provide these features for all properties. Should you have any questions about allergen requirements, please discuss them with at the time of your booking, as we may not be able to accommodate requests made closer to your arrival date.
18. PERSONAL BELONGINGS
We celebrate the fact that we have very little crime in Sunny Isles Beach, however we cannot accept responsibility for personal property such as cameras etc that are left unattended in your apartment. When visiting beaches and picnic areas, we suggest that you lock your vehicle and make sure that valuables are out of sight. By showing care in these simple steps you will make sure possible stressful situations do not arise.
19. ANIMALS
Animals are not allowed in or about the premises. Any cleaning or pest treatment costs incurred as a result of an animal being brought or kept in the property will be charged t the credit card(s) provided.
20. Access
20.1 Each Property is accessible by the Renter, as well as the Owner of the Property, the Cleaner. Normally, during the Rental Period, no one, including the Owner,, Cleaner , will enter the Property without first giving notification, either via written email or phone call, to the Renter.
20.2 In most circumstances no one will not enter a Property that is rented without prior notification. Nevertheless, certain situations may require immediate access without said notification. Those situations include but are not limited to: actual or suspected damage to the Property or building; flooding, fire or major construction to the Property or building; actual or suspected harm or illness to someone in the Property; actual or suspected loss, theft or burglary from the Property; ongoing maintenance to the Property; any event of access deemed necessary by the Owner; or a situation where without immediate access, the Property may suffer severe damage or destruction.
21.Limitation of Liability, Release, Indemnification and Liability insurance
Renter understands and agrees that Owner shall have no responsibility or liability to the Renter (or anyone claiming through the Renter), for any loss, cost, damage or liability which arises in whole or in part by reason of the condition of the Property (including but not limited to furniture, appliances, equipment or any other contents of the Property), or with respect to the building of which the Property is a part.
Absent the gross negligence or willful misconduct of Owner, the Renter agrees to fully release ) and Owner (and Owner's, employees and agents) from any and all claims (whether they be in contract, tort, or otherwise) liability, loss or cost relating to any loss or damage to any property or person arising in connection with the Property or the Renter's occupancy thereof. Renter understands and agrees that the Renter is obligated to purchase personal or travel insurance to cover any such damage or injury.
Renter understands that all valuables left in the Property are done so at Renter's own risk. All measures have been taken to ensure that the rental property is secure, but it is the Renter's responsibility to make sure proper precaution is taken against theft and burglary.
In addition, Renter agrees to indemnify , Owner (and Owner's, employees and agents) for all loss, costs, expenses, direct or indirect damages, punitive damages or any other liability incurred by said parties resulting from any act or omission by the Renter, or those claiming through the Renter in connection with the Rental.
In the event a court has determined that Owner has any liability hereunder, such liability shall be limited to the total Rental Fees paid by you. Related to this rental agreement.
22. Voluntary Execution
Each party acknowledges that they (with the intent to become legally bound by executing this Agreement) fully understand the Agreement and its legal effect, and that this Agreement may be signed only by Renter as a Unilateral Contract. Such party is signing the Agreement freely and voluntarily. For purposes of this Agreement, a "Unilateral Contract" shall be defined as binding upon the following act; payment made by Renter and acceptance of same in anticipation of the fulfillment of each party's obligations hereunder.
Each party should consult an independent attorney to ensure that the party's rights have been protected. Each party also acknowledges that the party is not relying on any representations made by a representative of the other party concerning any aspect of this Agreement.
23. Immediate Force and Effect
This Contract shall be in force and effect immediately upon its execution.
The above terms and conditions are an exact copy of the terms and conditions that you have agreed to and which appear on the website.
24. Miscellaneous
This Agreement constitutes and contains the entire agreement of the parties hereto with respect to the subject matter hereof and supersedes any and all prior negotiations, correspondence, undertakings, representations, warranties and agreements between the parties respecting the subject matter hereof. All exhibits referred to herein are incorporated by reference as if fully set forth in this Agreement. The headings contained in this Agreement are for reference purposes only and shall not affect in any way the meaning or interpretation of this Agreement. This Agreement shall be binding upon and shall endure to the benefit of the parties hereto and their respective successors and assigns, shall be governed by and construed and interpreted in accordance with the laws of the State of Florida, and may be amended from time to time only by a writing signed by both parties.
PRIVACY STATEMENT
Protecting the privacy of our clientele is extremely important. This is an obligation that we take very seriously. We are committed to protecting all of your personal information.
We will never release your personal data, such as your name, address, phone number, email address, etc without your consent. We do not rent, sell or distribute any part of your information collected to any third party organization. .
SITUATIONS THEY MAY AFFECT YOUR RESERVATION
At times situations arise of which we have no control which may affect your reservation. We will not be responsible if the property is not available due to inclement weather conditions or other acts of god, war or threat of war, civil disturbances, strikes or airport closure or any technical issues with transport. We will do our best to assist you in finding alternative accommodation.
When booking your accommodation, descriptions of our property and rooms are described as accurately as possible
---
Thanks so much for the wonderful stay in Sunny Isles! The Acqualina is gorgeous, elegant, and yet family friendly. The setup of the apartment was perfect for our family of 6. Everyone had plenty of room, and we enjoyed having all the hotel resort amenities available. Our kids enjoyed the basketball court, the pools, and the gelato! We all enjoyed the beach and pool service. The service was impeccable whether it was lunch by the pool or my husband and I enjoying a meal on our own at the bar. The food was delicious. The ail Mulino group sets a high standard for their food service whether in one of their restaurants or by the beach or pool. We loved being close enough to access the Everglades (25 minutes away) or Jungle Island (20 minutes away), but also being able to come back to a quiet hotel. Even on Saturday, it never felt crowded! There were always plenty of chairs on the beach or by the pool for us. The Acqualina is very much an elegant, family friendly resort, but it is well setup for those without kids as well with its adults only pool. The Acqualina is our absolute favorite place to stay when we visit Miami from now on. Al is a wonderful host, and he checked in with us and made himself available whenever we might need his assistance. Thank you for your hospitality and for opening up your beautiful home.
---
Открывайте новые возможности в г. Санни Айлз Бич и поблизости
Другие варианты жилья в г. Санни Айлз Бич: