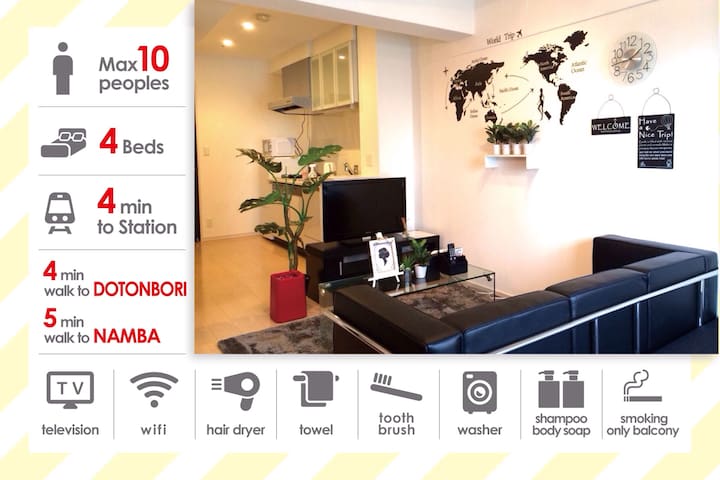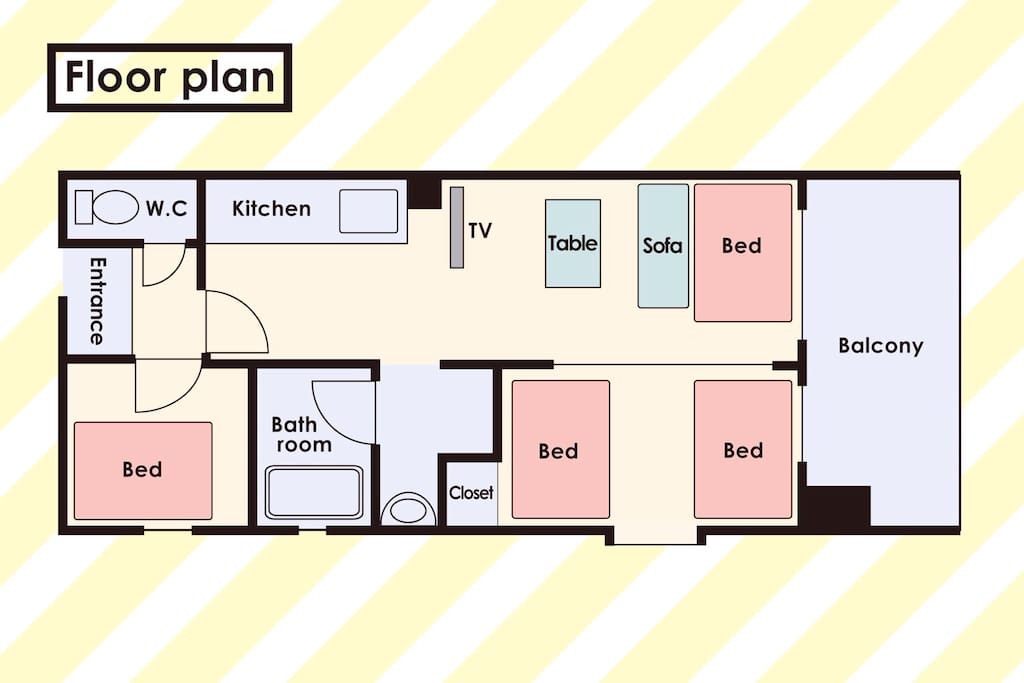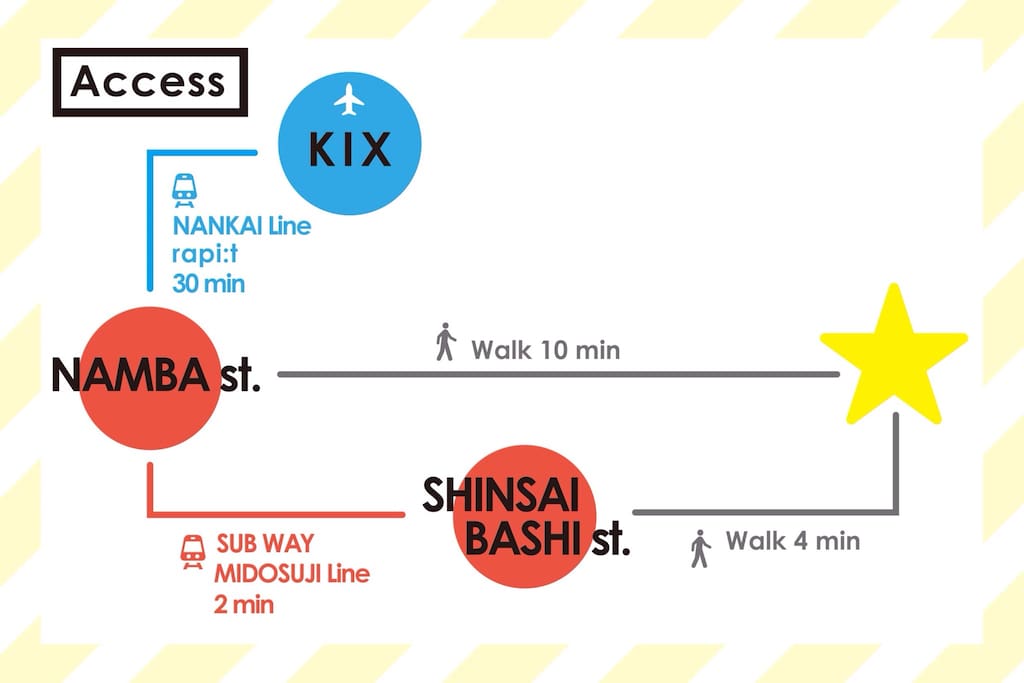 3Room☆Center of Shinsaibasi☆Namba
こちらは綺麗で3部屋ある広いお部屋になります♪
高級感あるお部屋です。
ご家族や友人団体でのご宿泊大歓迎☆
部屋が3つに別れてセミダブルベットを4つありますので3カップルまで別の部屋でも寝て頂けます。
道頓堀・心斎橋駅・難波駅・四ツ橋駅より各徒歩5分圏内! 買い物や観光に優れた大阪ベストのエリアとなります。
気持ちの良い宿泊期間を過ごして頂くため、必要なものは全てご用意させて頂いてます☆ 快適な旅行をお手伝いするため、ポケットWi-Fiも完備!ご宿泊中はそちらの持ち出しOKです!
Жилье
※部屋が3つありそれぞれ合わせてセミダブルベッド4つと布団が1セットの10人まで泊まれる大きな新しい部屋です。
※大きなテレビやテーブル等もあり自分の部屋の様にゆっくり過ごし易い部屋です。 食器やシャンプー、コンディショナー、コットン、麺棒、剃刀、ドライヤー等す生活用品すべて完備。
※エアコンもありますので夏も冬も快適です!
※部屋の中にトイレと風呂もあります。
※旅行中のポケットWi-Fiもあり外出の際は自由に 持って出て頂けます。
※バルコニーで喫煙できます。
※鍋、フライパン、包丁等、調理道具もありますので料理もして頂けます。
※FamilyMartまで徒歩2分
※LAWSONまで徒歩2分
※DAIMARUまで徒歩6分
※OPAまで徒歩5分
※ドンキ・ホーテまで徒歩3分
※道頓堀まで徒歩5分
※心斎橋筋商店街まで徒歩3分
※難波まで徒歩5分
※地下鉄難波駅25番出口より徒歩5分以内
※地下鉄心斎橋駅7番出口より徒歩5分以内
※アメ村の真ん中でコンビニ、飲食店も近く
ショッピングモールもすぐ近くに沢山あり
とても便利です。
※ 3 rooms are and are the big new room where 4 queen-size beds and a futon can stay up to a set of 10 people all together respectively. ※ There are also big televisions and tables, etc., and it's the room I tend to spend slowly like the room. I equip tableware, shampoo, conditioner, cotton, a rolling pin, a razor and a hair dryer well with all SU living articles.
※ There is also an air conditioner, so summer and winter are comfortable!
※ A restroom and a bathroom are also in the room.
※ There is also a pocket Wi-Fi to which I'm traveling, and I have one in case of going out freely, and you can go out.
※ You can smoke at a balcony.
※There are also a pot, a frying pan, kitchen knives and a cooking tool, so you can cook.
※ Even FamilyMart is 2 minutes on foot.
※ Even LAWSON is 2 minutes on foot.
※ Even DAIMARU is 6 minutes on foot.
※ Even OPA is 5 minutes on foot.
※ Even DONKI HOTE is 3 minutes on foot.
※ Even Dotonbori is 5 minutes on foot.
※ Even Shinsai-bashi-suji shopping area is 3 minutes on foot.
※ Even Nanba is 5 minutes on foot.
※ Subway Namba station, than the 25th exit, within 5 minutes on foot
※ Subway Shinsaibashi station, than the 7th exit, within 5 minutes on foot
※ In the middle of AME village, a convenience store and an eatery are also neighborhood. There are also many shopping malls around here right now. Very convenient.
※是有房间3个各自共计小双人床4个和被褥到1套10人能住大的新的房间。
※大的电视机和桌子等是也在慢慢地过自己的房间的先生容易的房间。餐具和洗头液,conditioner,棉,擀面杖,剃刀,吹风机等做生活用品全部完善。
※因为空调也有夏天和冬天都舒适!
※厕所和浴室也在房间中。
※旅行中的口袋Wi-Fi也在从外出时候自由 可以拥有出来。
※ 锅,煎锅,菜刀等,因为烹饪工具也有饭菜也可以做。
※在阳台能吸烟。
※到(连)FamilyMart徒步2分
※到(连)LAWSON徒步2分
※到(连)DAIMARU徒步6分
※到(连)OPA徒步5分
※到(连)donki·hote徒步3分
※到道顿堀徒步5分 ※到(连)心斋桥筋商店街徒步3分
※到(连)难波徒步5分
※比地铁难波站25号出口徒步5分以内
※比地铁心斋桥站7号出口徒步5分以内
※在ame村正中便利店,饮食店也附近 附近也很多地有大型购物中心 非常方便。
※방이 3개 있어 각각 맞추어 세미더블 침대4개와 이불이 1세트의 10명까지 묵을 수 있는 큰 새로운 방입니다.
※ 큰 텔레비전이나 테이블 등도 있어 자신의 방 처럼 천천히 보내 쉬운 방입니다. 식기나 샴푸, 컨디셔너, 코튼, 밀방망이, 면도기, 드라이어 등 하는 생활용품 모두 완비.
※에어컨도 있으므로 여름도 겨울도 쾌적합니다!
※ 방 안에 화장실과 목욕(목욕탕)도 있습니다.
※여행중의 포켓Wi-Fi도 있어 외출의 즈음은 자유롭게 가져서 나와 주실 수 있습니다.
※발코니에서 흡연할 수 있습니다.
※ 냄비, 후라이팬, 부엌칼등, 조리 도구도 있으므로 요리도 해 주실 수 있습니다.
※FamilyMart까지 도보 2분
※LAWSON까지 도보 2분
※DAIMARU까지 도보 6분
※OPA까지 도보 5분※【돈키】·【호테】까지 도보 3분
※도톤보리까지 도보 5분
※신사이바시스지 상점가까지 도보 3분
※난바까지 도보 5분※지하철 난바역 25번 출구에서 도보 5분이내
※지하철 신사이바시역 7번 출구에서 도보 5분이내
※사탕(비) 마을의 한복판에서 편의점, 음식점도 가까이 쇼핑몰도 부근에 많이 개미 정말 편리합니다.
Доступно гостям
室内、全て立ち入り可能ですが
宿泊人数により使用できる部屋数が
変わります。
予約人数に合わせて部屋をセッティング
します。
近隣の方にご迷惑のかからないよう
ご配慮下さい!
たくさんの人が住んでますのでビルに入ってからの廊下やエレベーター、ベランダ等
公共の場所での大きな声での会話や笑い声は
控えて下さい!
夜10時以降の部屋でのテレビの音量や
大きな声での会話は避けて下さい!
All interiors can meddle. The number of rooms the number of lodgers can use. It changes. A room is set according to the reservation number of people. It's done. You're troubled to the neighborhood, it doesn't seem to hang. Please consider! A lot of people live there, so it's for a hallway, an elevator and a verandah after I enter a building. Conversation and a chuckle with loud voice at a public place? Please wait! The volume of the television in the room after 10 o'clock in the evening and. Please avoid conversation with loud voice!
실내, 모두 출입해 가능합니다만 숙박인수에 의해 사용할 수 있는 방수가 변합니다. 예약 인원수에 맞춰서 방을 세팅합니다. 이웃쪽에 폐를 끼치지 않도록 배려해 주세요! 많은 사람이 살고 있으므로 빌딩에 들어가고 나서의 복도나 엘리베이터, 베란다 등공 모두의 장소에서의 큰 목소리에서의 회화나 웃음 소리는 삼가해 주세요! 밤 10시이후의 방에서의 텔레비전의 음량이나 큰 목소리에서의 회화는 피해 주세요!
室内,全部进入可以,不过 根据投宿者数能使用的房间数变化。 合起为预约人数舞台装置有房间。 为近邻不受到麻烦的那样请关怀! 因为很多的人住 请控制在在大楼开之后的走廊和电梯,阳台等公都地方的大的声音的会话和笑声! 夜晚在10点以后的房间的电视机的音量在大的声音的会话请避开!
Общение с гостями
朝10時~深夜2時までは問い合わせ対応可能です。
I inquire until 10:00~~late at night 2:00 and am prepared in the morning.
아침 10시심야 2시까지는 문의해?? 가능하니?
10点 ̄深夜的2点为问向wase对的同意恐怕相当于。
---
---
Без вечеринок и мероприятий
Время прибытия — после 15:00
※チェックイン時間は、15:00です。
チェックアウト時間は11:00です。
※もし部屋のインターホンが鳴ったり、扉をノックされても
絶対出ないで下さい!
※喫煙はベランダのみでお願いします
※廊下やエントランス、部屋、ベランダでの大きな声での会話・騒音は近隣のお住まいの方のご迷惑となりますのでお控え下さい
※チェックインより早く入る事は出来ません
※チェックアウトの時間は厳守下さい
※メールボックスの中の郵便物には触らないで下さい! 絶対捨てないで下さい!
※日本に来てから連絡はAir b&bのメールで連絡下さい。 仕事で電話は出られないことがあります!
※家具は動かさないで下さい。
※チェックアウトの際は全ての物を元あった場所に戻して下さい!
※WiFiの充電器は持って帰らないで下さい!
※Check-in time is 15:00. Check-out time is 11:00.
※Even if an intercom of the room rings, and you knock at a door. Please never go out!
※ Smoking only a verandah, please.
※Conversation with loud voice by a hallway, an entrance, a room and a verandah A noise will be the person's trouble in which vicinage is living, so please wait.
※You can't enter earlier than check-in. Please observe time of the* check-out.
※Please don't touch a mail in the mailbox! Please never throw it away!
※ Please inform me of a contact by mail of Air b&b after I come to Japan. You can't answer the telephone to work!
※ Please don't move furniture.
※ When it's check-out, please return all ones to the place where origin was here!
※ Please don't bring back a charger of WiFi!
※登记时间,是15:00。 退房时间是11:00。
※如果房间的对讲机响,被敲或者门 绝对也请别出! 因为
※吸烟以只阳台拜托您了在在
※走廊和entrance,房间,阳台的大的声音的会话·噪音成为近邻的住所的麻烦候补下色子 自
※登记不能快速进入*检验的时间严守给
※请别触摸邮箱中的邮件! 请别绝对扔掉!
※来日本之后联络用Air b&b的邮件联络给。 由于工作电话有不能出事!
※请别调动家具。
※检验时候请返还全部的东西到原来有的地方!
※WiFi的充电器请别带回去!
※체크인 시간은, 15:00입니다. 체크아웃 시간은 11:00입니다.
※만약 방의 인터폰이 울리거나, 문을 노크되어도 절대로 나오지 말아 주세요!
※흡연은 베란다만으로 부탁합니다
※복도나 엔트런스, 방, 베란다에서의 큰 목소리에서의 회화·소음은 이웃의 사시는 분 폐가 울리므로 예비(대기) 아래 반찬
※체크인보다 빨리 들어갈 수는 없습니다 *체크아웃의 시간은 엄수해 주세요
※메일 박스 안(속) 우편물에는 만지지 말아 주세요! 절대로 버리지 말아 주세요!
※일본에 들어오고 나서 연락은 Air b&b의 메일로 연락해 주세요. 일 때문에 전화는 나올 수 없는 것이 있습니다!
※가구는 움직이지 말아 주세요.
※체크아웃의 즈음은 모든 물건을 원래 있었던 장소로 되돌려 주세요!
※WiFi의 충전기는 가지고 오지 말아 주세요!
---
The location of Koji's place cannot be beat. It is in the heart of Shinsaibashi district, offering lots of delicious food and great shopping. It is nearby the concrete park where you can chill with a Hyouketsu Strong and people-watch. If you wait long enough a ferrari or lambo will drive by with their baritone race pipes. There is a pretty interesting basketball store/coffee shop hybrid on the first floor of the apartment building. I got my caffeine fix there multiple times and it was pretty cool and trendy with its outdoor seating. The things I found lacking but not too bothersome were as follows: we learned the shower floor drain was plugged upon first usage. It started as a slow drain, then eventually was completely stuck. We opened it up and it was filled with...stuff. The floor throughout the apartment had long black hairs upon arrival and the sheets did not seem to be freshly laundered. The floors under the beds looked like they had not been cleaned in quite some time as there was a thick layer of dust under them. Not really a big deal since who goes under the bed when its only 6 inches off the ground. Also, the beds are suuuuper stiff and are actually more like two springed half-mattresses stacked together leaving the seam basically where your lower back goes. Overall we enjoyed our trip but would likely stay somewhere else to check out a different part of Osaka.
---
The place's location is great, few blocks away from the shinsaibashi shopping street. There's lot of restaurants around and you will find it very convenient to go everywhere around the city. It's about 10-15min walk from nanki namba station and 5min walk to the closest subway station. The apartment itself looks fine but the carpet wasn't clean and I sure the landlord need to take some actions on it. Overall it's a nice place to stay, good for family trip with the size of 4-6.
---
こんにちは。 僕は海外が好きで1人旅をしています。 アジアはほとんど行きました。 あと音楽、クラブが大好きです。 僕自身DJもしてました。 日本に来られる方々に大阪を心地よく 過ごしてもらえる様に部屋を用意してますので よろしくお願いします。 世界中の方々の旅のお手伝いをしたいです。 Hello. I have liked foreign countries and have traveled alone. I almost went to Asia. I like music and a club ve…
Языки:
English, 中文, 日本語, 한국어
Частота ответов:
100%
Время ответа:
в течение часа
Открывайте новые возможности в г. Осака и поблизости
Другие варианты жилья в г. Осака: