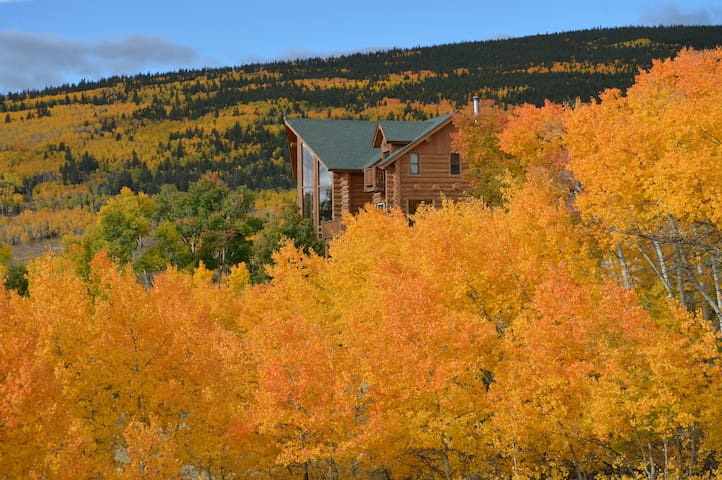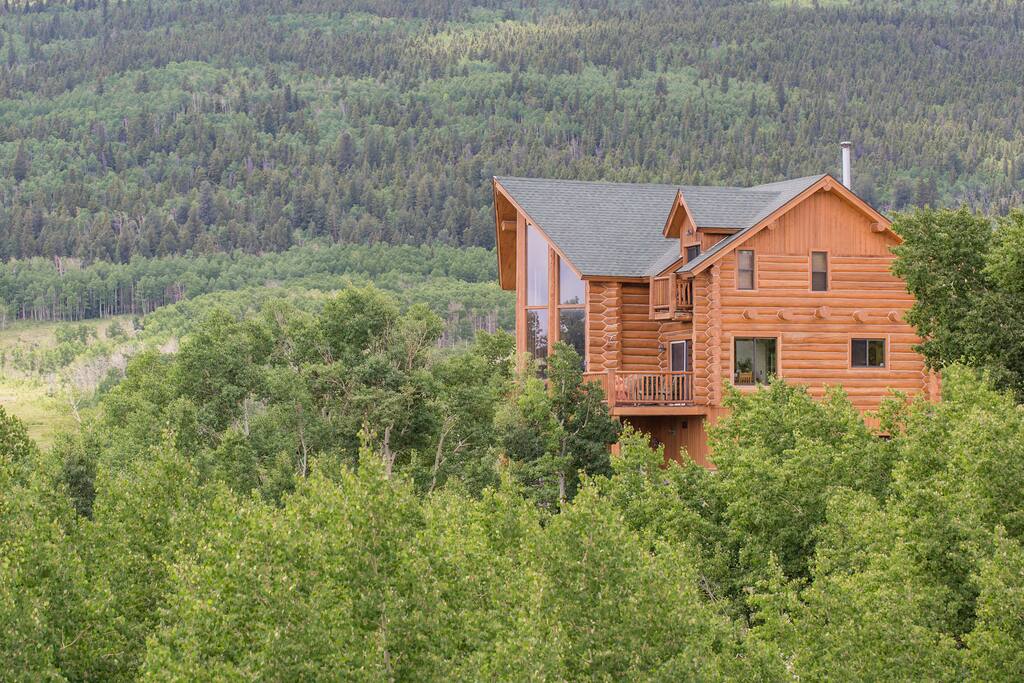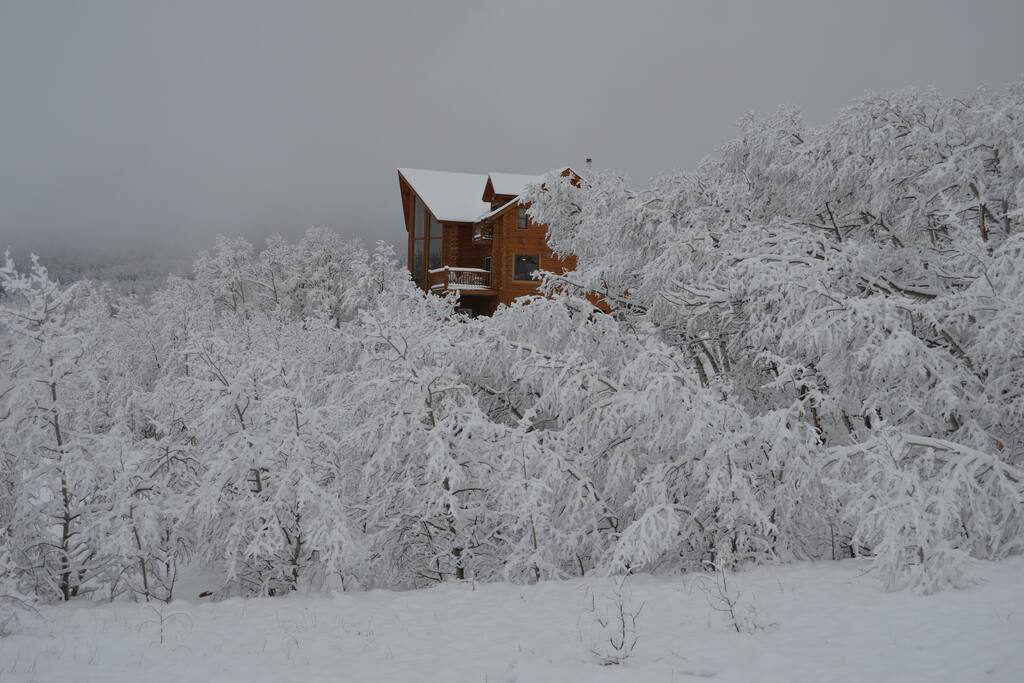 Beautiful Log Home close to Breckenridge and Buena Vista, 4 Master Suites! Expansive Mountain Views, Private Fishing Ponds, 2-story fireplace. Ski at Breck or Monarch! Make it your base camp for all your Colorado activities! New Hot Tub as well!
Жилье
Welcome to The Good Shepherd's Lodge on Sheep Ridge Road!
"Wow! What a Beautiful Place!" - Shane
"Amazing Views!"- Karla
"Its More Amazing Than The Pictures!" - Nicholas
"Magical" - Maggie
"We Caught Fish! - Tyler
"Exceeded Expectations! - David
Tucked among the aspens with an expansive view of the mountains, this 3,500 square foot, four master bedroom, six bathroom lodge is your home away from home. The lodge is centrally located five miles outside of Fairplay Colorado in Warm Springs Ranch for quick access to Breckenridge and Buena Vista. Many guests view this are their "Base Camp" for exploring the Rockies. There is a definite warmth and welcoming feeling to this special home and area that will help you get away from the busyness of your daily life.
Tasteful mountain-inspired décor can be found throughout this Colorado mountain home, from each of its four master bedrooms to all three of its large living areas. Hardwood floors with in-floor radiant heating and exposed log ceiling lend charm to the spacious great room area. Relax by the gorgeous two story stone fireplace or enjoy a cup of coffee on the deck while watching the sunrise over the mountains.
There are four master suites in this lodge, one on the main level with a jetted tub, and all have walk-in closets & private decks or a patio for your comfort and scenic views.
The great room boasts a two story stone fireplace with floor-to-ceiling windows offering unparalleled views of the Kenosha and Tarryall mountain ranges and Pikes Peak in the distance. You can see for miles over the aspens and the Valley of South Park.
The kitchen, with stainless steel appliances and the adjoining dining area are a chef's and entertainer's dream and perfectly situated to enjoy casual living and views of the mountains. The spacious kitchen is fully stocked with all kitchen utensils, dishes and cooking supplies you will need for a home away from home.
The loft is a comforting area to relax and sit by the wood burning stove and read a book or watch a movie on Direct TV or from a selection of DVD's.
Enjoy our new Hot Tub! Nothing is more relaxing after a long day hiking or skiing that a hot tub under the stars!
For the fishermen in the group, there are five stocked private fishing ponds located on the Warm Springs Ranch that are available for you to use without a fishing license.
For the hiker, The Good Shepherd's Lodge backs up to open space and connects to the Pike National Forest for great hiking and exploring.
For the reader, the family room has a large library of books for your reading pleasure.
Summer/Fall activities:
Warm Spring Ranch
* Fishing in five stocked private ponds on the ranch
* Tennis and basketball court
* Relax on a hammock in the aspens
* Fish the world class trout streams and lakes in the Fairplay area. Fairplay is the official Trout Fishing Capital of Colorado.
* Hiking – Three of Colorado's "fourteeners" are accessed from Fairplay and Alma, and there are 15 peaks above 13,000 feet circling South Park.
* Biking – Bike around the ranch or choose from dozens of trails in the Pike National forest.
* Four-Wheeling – Four-Wheeling is not allowed on the ranch, but there are numerous forest roads and mountain passes to old mining camps and backcountry area's around South Park.
* Wildlife Viewing – Because of the high altitude and geology, South Park supports a number of rare plant and animal species. The Bristlecone pines – the oldest living trees in Colorado ( 2,400 years) can be found above Fairplay on Limber Grove Trail. Elk, deer, moose and many other species can also be found in the South Park area.
* Horseback riding – Saddle up on an 8,000 acre ranch of varying terrain with spectacular views.
* Fall - Take a scenic drive or watch the aspens change colors right from the main deck.
Take a short drive to:
* Breckenridge for resort activities and shopping
* Buena Vista – Whitewater rafting
* Mt Princeton – Hot springs
* Fairplay – Activities every weekend in the summer
* Fairplay - Historic South Park City, an 1880's restored outdoor museum is located on Front Street in downtown Fairplay
* Fairplay recreation center offers a pool and workout area for your enjoyment
Winter Activities
* Cross country skiing right from the lodge
* Snowshoeing
* Hiking
* Ice Fishing
* Take a short drive to Breckenridge for world class downhill snowboarding or skiing.
* Ski at Monarch for great skiing plus family friendly pricing!
* Fairplay recreation center offers a pool and workout area for your winter indoor enjoyment
The Good Shepherd's Lodge is a great location as well for women's and men's retreats, corporate meetings, and family reunions. Ask us for more pictures or more details if interested.
Общение с гостями
Feel free to contact us anytime with any questions, concerns or local information.
Другие важные подробности
We do require our rental agreement signed when you book. It will be sent you are ready to book. Here is a copy of it:
SHORT TERM RENTAL AGREEMENT, POLICIES and CONDITIONS for
THE GOOD SHEPHERDS LODGE LLC in FAIRPLAY, COLORADO

In consideration of the monies received and the mutual promises contained herein, we the owners ("Owner") of the subject property hereby agree to give a license to use the Property to the undersigned, ("Renter"), on the property and dates described on the Reservation Confirmation and above, under the conditions stated herein. The term "guest" includes Renter and his/her guests.
Rental Terms: The dates, payment and payment terms of this rental agreement have been provided by owner on the reservation website and guest will follow the reservation process.
Entry/Check In: Renter will be issued a door entry code for lockbox at the front door. Guests may not change the code. If the entry code is changed Renter will be subject to a $200 charge.
Check in time will be any time after 4PM on the scheduled day of arrival. An earlier check in time is only possible with Owner's permission. Location and instructions for entry will be provided upon confirmation of reservation.
Express Check out: Guest must check out of unit by 10AM on scheduled day of departure. Failure to check out promptly at 10AM or causing the delay of housekeeping to prepare the unit for the next guest may result in additional charges (see Tenancy below).
Notification: It is Guest's sole responsibility to inspect the Property upon arrival. Renter agrees to inspect the entire Property to ensure that it is free of hazards and properly equipped. Renter assumes the entire risk of injuries arising from use of the Property. Guests will take reasonable measures to prevent slips in the bathroom, on staircases, on balconies and throughout the Property. Renter shall contact Owner at the number to be provided if anything is unsatisfactory within 24 hours of arrival.
Linens, Supplies and Maid Service: Your unit will be cleaned and prepared with fresh bed and bath linen prior to your arrival. There is NO daily maid service or linen freshening. An initial supply of paper products, soaps, shampoo and trash bags will be provided. Once the initial supply is used it will be the Guest's responsibility to replenish the supplies if they so desire.
Smoke and Carbon Monoxide Detectors: Guests are reminded to check all smoke detectors upon check in. Smoke and carbon monoxide detectors were checked prior to your arrival. It is the Renter's responsibility to contact Owner if there are any concerns or questions about the working order of the detectors.
Restrictions on Property Use: Guests are prohibited from engaging in any unlawful activity or any other activity that constitutes a nuisance. Violation of this provision will result in immediate eviction without refund, and Renter will be held liable for any damages to the Property, contents and grounds.
Windows and Doors: Guests must keep windows and doors, including the garage door closed during the winter months. Failure to do so may result in an extra charge to Renter.
Occupancy: The maximum number of occupants allowed in the Property is specified in the reservation. Overcrowding or misrepresentation is grounds for immediate revocation of the license to the Property and removal of Guests without refund. The Renter must be staying at the Property for the full time of the reservation and take full responsibility for the Property. Renter must be at least 28 years of age. Children are the responsibility of the Renter and should not climb on furniture, hang out of windows, or engage in other dangerous or unsupervised activities. Use is at your own risk. Renter takes full responsibility for lost or broken items and damages to the Property of any kind.
Noise: No person shall cause or allow others to cause unreasonable noise while occupying the Lodge. This noise ordinance is strictly enforced between 10:00 PM and 7:00 AM.
Disposal of Trash: Place all trash in trash cans in the garage. Keep garage doors closed during your stay. Leaving garbage outside is prohibited due to wind, bears etc.
Use of Property and Amenities: All Guests must agree to follow the posted rules for use of the property and amenities. Rules for use of the property and amenities are listed in the house. In case of malfunctions, guests are responsible for contacting Owner to report the malfunction. Owner is not responsible to guests for any repairs made without their consent or for loss of use of such amenity if repairs cannot be made immediately.
Pets and Smoking Prohibited: No pets are allowed on the premises. Any form of smoking is prohibited inside the property. Violation of the "No Pets" or "No Smoking" stipulation is grounds for immediate removal without refund. If evidence or odor of pets or smoking is present following Guest departure Renter will be billed for all expenses incurred in removing such evidence or odors, including incidental expenses such as, but not limited to, loss of income, remuneration to future guests due to odor or damage. If smoking outdoors, close all windows and doors to prevent odor from entering the home.
Remove Shoes after entry: In order to keep the carpets and floors as clean as possible, please remove your shoes after entering the home and leave in the vestibule inside the door.
Furniture and belongings: Guests agree not to move furniture, decorations, electronics, kitchen supplies or belongings from their original locations in the unit. Replacement of items to original location may result in additional charges to Renter.
Personal Property Loss: Owner is not responsible for any loss or damages whatsoever due to the loss, theft or damage to any Guest's personal property including any vehicles whether owned, leased or rented.
Subletting and Assignment: Renter may not sublet, sublicense or otherwise grant any rights to the Property.
Property Use: The Property may not be used for any activity in violation of local, state or federal laws, or Colorado Insurance rules and regulations.
Hot Tub:
•Guest's use of the hot tub is at Guest's sole risk. The Good Shepherds Lodge LLC makes no representations or warranties concerning the condition and/or use of the hot tub. Guest is fully aware that the hot tub and surrounding patio may be dangerous. Guest must be cautious when entering and exiting the hot tub. Guest is aware that use of the hot tub may result in injury, sickness or death. Guest will read and follow the Hot Tub Guidelines in the Welcome Letter provided at booking. If at any time the hot tub looks cloudy or dirty, Guest will cease any further use of the hot tub and will notify owner.
•Due to our remote location and the difficulty in securing parts in a timely manner, we cannot guarantee the function of the hot tub. No monetary adjustment will be made in case of its failure
•The tenant must immediately notify the owner of any repair that the hot tub may require. The tenant is responsible for the full cost that may be due for repair of the hot tub that is required as a result of negligence by the tenant or the tenant's occupants or guests. The tenant must operate the hot tub in accordance with the manufacturer's instructions and in a safe, responsible manner.
•The tenant understands that the swimming pool hot tub is strictly an amenity and that the use of this amenity is not guaranteed under the terms of the rental agreement. Any interruption or non-availability of the use of the swimming pool, spa and/or hot tub will not violate any terms of the rental agreement.
•NO CHILREN UNDER THE AGE OF 12 ARE PERMITTED TO USE THE HOT TUB AT ANY TIME WITHOUT DIRECT SUPERVISION.
Limitations on Rental: Owner will not be liable for circumstances beyond their control, including but not limited to appliances or heating failure, other mechanical failure, unfavorable weather, disruption of utility services including cable television, etc. Relocation, rental pro-ration or refund in the event of such circumstances is at the sole discretion of the Owner. Owner will do reasonable preparations before your arrival and during the stay to ensure all facilities are working normally. In the event Owner is unable to deliver the Property to Renter because of fire, mandatory evacuation, eminent domain, Acts of Nature, or if the property is unavailable because of construction or lack of utilities, Guests agree that Owner's sole liability will be a refund of payments tendered by Renter. Guests expressly acknowledge that in no event will Owner be held liable for any other condition out of the control of the Owner, or for any incidental or consequential damages, including but not limited to, moving expenses and charges for a new rental.
Tenancy: The Renter acknowledges that this is NOT a tenancy for the Property. The Property is not rented for more than 30 days and is taxed and treated as a transient occupancy. Property laws do not apply to the license granted herein, and the Guest may be removed as a trespasser immediately upon termination of this license. Often a Guest is scheduled to check in on the same day as the checkout day of another Guest. If Guest stays longer than allowed, Owner would face significant logistical problems with the next Guest, including possible liability. As such, Guest agrees to vacate immediately on the checkout day at 10:00 a.m. Failure to do so will entitle Owner, in addition to all other remedies available to it, to have Guest ejected as a trespasser and to physically remove Guest and all of Guest's possessions from the Property (for which Guest hereby grants permission and consent) and obtain damages and injunctive relief against Guest.
Indemnification: Guests agree to release Owner from and against all liability should anyone be injured upon the premises during the term of occupancy resulting from any cause whatsoever, except in the case of personal injury caused by willful gross negligence on the part of the Owner.
Governing Law: The terms and conditions stated herein will be interpreted by and governed under the laws of the State of Colorado and any action arising out of this agreement shall be litigated in the State of Colorado
Risk of personal injury and property damage: Guests voluntarily accept all risk of personal injury and property damage arising from use of the property rented through the Owner(s). Guests hereby agree that Guest, guest's heirs, personal representatives and assigns will not make a claim against the Owners, its agents or affiliated entities for any bodily injury or property damage arising from use of the property. Guest agrees that this release includes bodily injury or property damage caused in any way by active or passive negligence of the Owner, its agents or affiliated entities. This release does not apply to liability for willful injury.
Attorney's Fees: In the event of any action or proceeding commenced by any party, the prevailing party in such action or proceeding shall be entitled to recover from the other party all cost and expenses thereof, including actual attorney's fees and cost. If Owner consults legal counsel or a professional collection service for collecting any amounts due to Owner under this Agreement, Renter shall be responsible for all costs of litigation and/or collection in case of such, including actual attorney's fees(URL HIDDEN)Invalid Provisions: If any provision of this Agreement is held to be illegal, invalid or unenforceable under present or future laws, such provision shall be deemed modified to eliminate the invalid element and hereby amended with as similar of terms as possible without making such provision illegal, invalid or unenforceable. The remaining provisions hereof shall remain in full force and effect.
Renters Responsibility: It is the Renters responsibility to make all Guests aware of the provisions contained herein.
Entire Agreement: This Agreement sets forth the entire understanding of the parties and supersedes all prior agreements or understandings, whether written or oral, with respect to the subject matter hereof. No amendment or modification hereto shall be binding unless made in writing and signed by the parties hereto.
Waiver: The waiver by either party hereto of a breach of any term or provision of this Agreement shall not operate or be construed as a waiver of a subsequent breach of same provision by any party or of the breach of any other term or provisions of this Agreement.
Headings: Headings of the paragraphs herein are used solely for convenience and shall not be used for interpretation or construing any word, clause, paragraph or provision of this Agreement.
Thank you for taking the time to review our rental agreement. We look forward to having you as a guest in our home and hope you enjoy your stay! The Good Shepherds Lodge LLC
Предметы первой необходимости
Доплата за каждого последующего гостя Бесплатно
Залог за сохранность имущества 30094 р
Общайтесь только через Airbnb
В целях безопасности никогда не переводите деньги и не общайтесь за пределами сайта или приложения Airbnb.
Спальня 1
1 кровать King Size, 1 матрас на полу
Спальня 2
1 кровать King Size, 1 матрас на полу
Спальня 3
1 сдвоенная кровать, 1 двухъярусная кровать, 1 матрас на полу
Спальня 4
2 односпальные кровати
Зоны общего пользования
2 дивана-кровати, 2 дивана, 2 надувных матраса
Без вечеринок и мероприятий
Время прибытия — после 16:00
This a no pet and no smoking home. Thanks for honoring that request.
There is an age requirement of 28 to rent
Минимальное количество ночей для бронирования этого жилья не фиксировано.
Everything about this place is magical. The views through the main windows are heavenly, from dawn until you see the shooting stars. There is ample space for family and friends, and we played many of the board games family style. The hot tub was really relaxing, as were all the sofas with extra blankets and pillows on them. The bedrooms and six baths made sure everyone had their space and privacy. Also, we loved reading from the book library! An amazing place to stay, thanks again Mark and Nancy!
---
It was a memorable trip with my friends and the cabin and amenities were excellent. We had everything that we needed, would love to go back any time! Mark was really helpful and always available if we had any questions. He also alerted us about bad weather conditions on the first day and was considerate about our schedule. The location was beautiful and the view from the cabin provided a sense of calm. Proximity to Denver is makes it even more appealing.
---
We loved how Mark and Nancy communicated with us and gave us ideas on things to do around Colorado, especially since it was our first trip to Colorado. They are wonderful and I will definitely be using there home again. Beautiful, beautiful, beautiful home and view. It felt very homey and we loved it. They had everything that was needed and shops and restaurants a few miles down the road. Loved everything about their cabin. We will definitely be doing it again. Thanks Mark and Nancy!!! Johnny & Hillary Holman Jamel & Ty Fore Lorielle Igelhart
---
Group of 7 cousins stayed for our annual cousin reunion weekend. Home is as advertised: absolutely beautiful, well maintained, great views. Specific comments: 1) Location: in what feels like the heart of authentic Colorado ranch country. Stunning beautiful drives all around. Feels isolated but we liked that, easy drive to Breck or Monarch or Copper however. In a gated community so nice balance of ranch feel without feeling too desolate. 2) Home: large rooms, plenty of sheets towels blankets, beautiful views. We were there Feb, it's VERY dry. We used the humidifier in the garage. Beautiful gas and wood burning fireplaces. We were never uncomfortable. Oh, and hot water that never went away! Showers never ran out even with 7 of us. 3) Host communication was easy and we had everything we needed. House access is self access which allowed for flexibility in arrival departure. Thanks Mark and Nancy!!
---
Communication and helpfulness was over the top. The house was beautiful inside and out. It was a little ways out from slopes and shops so had to leave earlier than expected to go to Copper Mountain and Breckenridge. Would definitely try to go again in the fall. Thanks Mark and Nancy for sharing your beautiful home with us!
---
Mark was very accommodating. He checked in several times prior to the trip to give us updates on the weather. He gave great tips on where to go during the day, and what types of activities were available in the surrounding towns. The place is very roomy and comfortable, and has amazing views. I would highly recommend this for families or large groups looking to get away from the city life.
---
We lived for many years in Minnesota but always wanted to live in Colorado at some point in our lives. We now live and work in Denver but fully enjoy our time "up on the mountain".
The pace, the beauty, the adventures that we have at The Good Shepherds Lodge help us relax and get away from the hustle and bustle of daily life. We hope that, as our guests, you feel that way as well.
Частота ответов:
100%
Время ответа:
в течение часа
Открывайте новые возможности в г. Fairplay и поблизости
Другие варианты жилья в г. Fairplay: