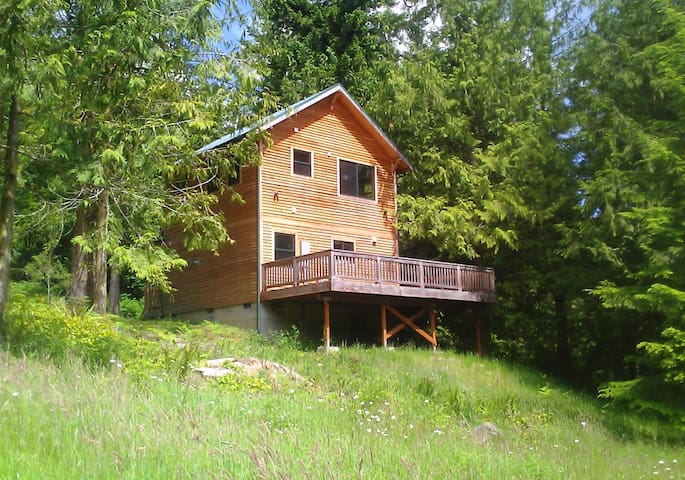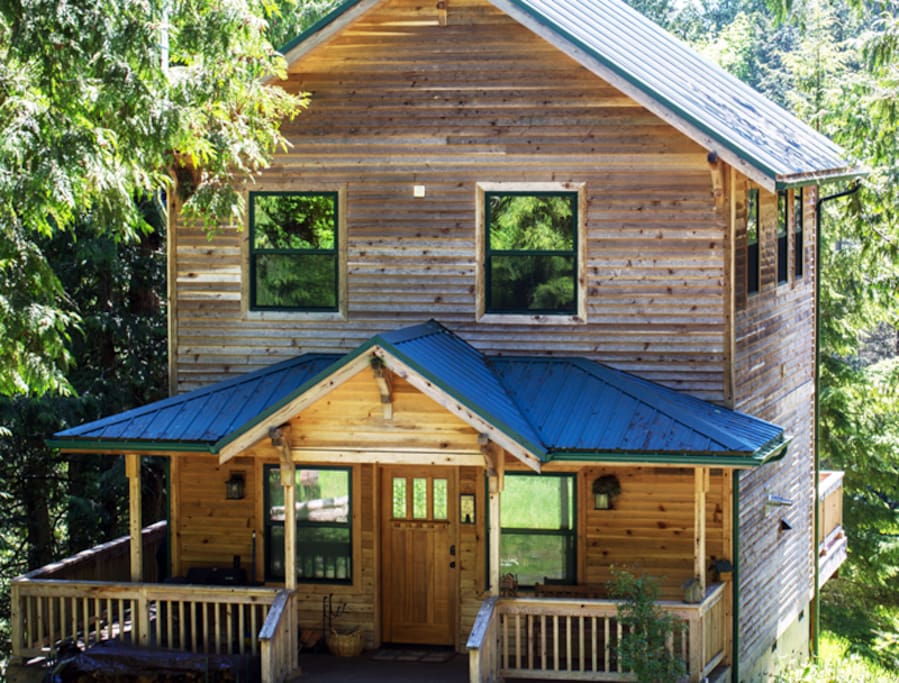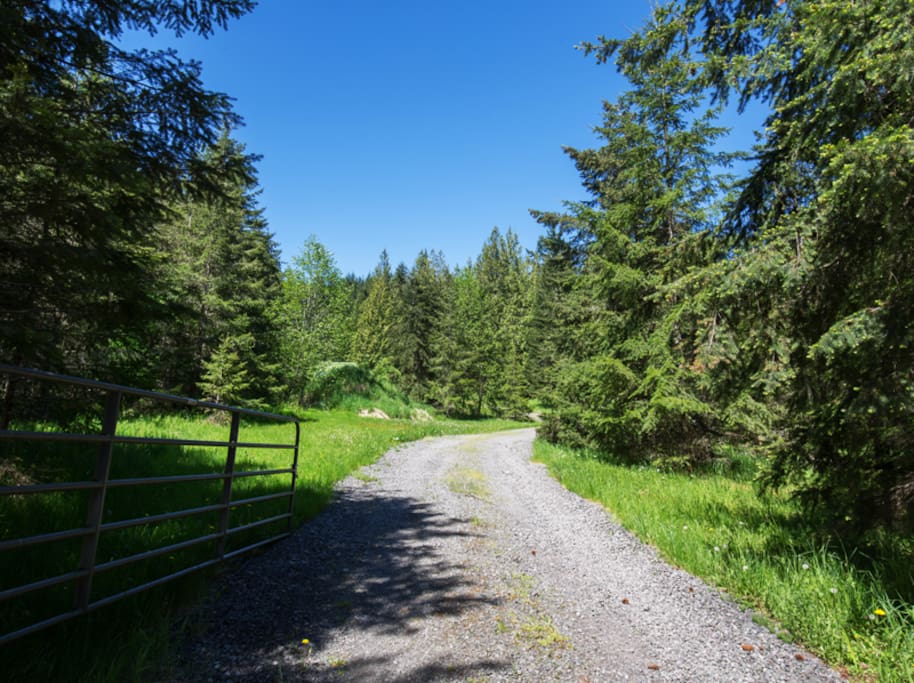 Хорошо построенная каюта в стиле мастера, расположенная в лесу. Вечером сядьте на палубу для феноменального шоу галактик. Было замечено много дикой жизни, оленей, еноторов, орлов и даже медведя. Менее 5 миль до города.
Well built Craftsman style cabin nestled in the woods. Sit on the deck in the evening for a phenomenal show of the galaxies. Lots of wild life, deer, racoons, eagles, and even a bear has been spotted. Less than 5 miles to town.
Жилье
Когда вы чувствуете потребность в расслабляющем отдыхе, подумайте об этом доме, построенном владельцем в стиле Craftsman. Тихий - главный приз. Посещение на палубе вечером - это такое удовольствие, чтобы посмотреть ночное небо, подальше от любого светового загрязнения, зрелище звездное. В этом доме есть две спальни на верхнем этаже, как с кроватями Queen, так и с 2 спальнями. В ванной на верхнем этаже есть только душ, внизу ванная комната оснащена ванной / душем. Кухня оборудована посудомоечной машиной, полноразмерным холодильником и холодильником. Гранитные столешницы и пол из лиственных пород / бамбука. Очень красивый. Просторная палуба за дверью кухни позволяет вам заглянуть в ночное небо или поесть на улице, когда погода теплая. Имеется кабельное телевидение и WIFI. Владелец имеет очень большую коллекцию DVD (более 100), поэтому наслаждайтесь фильмом на плоском экране. Существует также дровяная печь с хорошим запасом дров прямо за дверью, ничто не нагревает ваш дом и сердце, а также хороший дровяной огонь. Есть тропы, ведущие в лес, так что выходите и исследуйте. Цивилизация находится всего в 3 милях от дороги. Этот дом доступен в ночное время в течение всего года. Специальные тарифы будут доступны для ежемесячного пребывания в октябре-апреле, если вам нужно место, где вы строите дом или ищете недвижимость.
When you feel in need for a relaxing get-a-way, consider this home, built by the owner in the Craftsman style. Quiet is the ultimate prize. Siting on your deck in the evening is such a treat to view the night sky, away from any light pollution, the display of stars is spectacular. This home features two upstairs bedrooms, both with Queen beds, the 2nd bedroom also has a queen size hide-a-bed. The upstairs bath has a shower only, the downstairs bathroom has a tub/shower combination. The kitchen is complete with dishwasher, full sized refrigerator and range. Granite counter tops and hardwood/bamboo floor. Very beautiful. A spacious deck outside the kitchen door allows you to take in the night sky or have a meal outside when the weather is warm. Cable TV and WIFI are available. The owner has a very large collection of DVDs (over 100) so enjoy a movie on the flat screen. There is also a wood stove with a good supply of fire wood just outside the door, nothing warms your home and heart as well as a good wood fire. There are trails that lead into the woods so get out and explore. Civilization is just 3 miles down the road.

This home is available nightly throughout the year. Special rates will be available for monthly stays October - April if you need a place to be while your home is being built or searching for property.
Доступно гостям
Частный отдых / Доступ ко всей собственности Нет доступа к отдельному зданию магазина по собственности
Private Vacation Rental / Access To Entire Property
No access to separate shop building on property
Общение с гостями
Private Vacation Rental / Owner Not Present / Property manager можно связаться по телефону
Private Vacation Rental / Owner Not Present/ Property manager can be contacted by telephone
Другие важные подробности
Имейте в виду, что вы находитесь в пустыне. Не оставляйте пищу снаружи, поскольку она будет привлекать животных. Для вашей безопасности вы можете подумать о том, чтобы взять с собой спрей для медведя, путешествуя пешком по лесу.
Keep in mind that you are in a wilderness environment. Do not leave food outside as it will attract animals. For your safety you might consider taking bear spray along when hiking in the woods.
Предметы первой необходимости
Общайтесь только через Airbnb
В целях безопасности никогда не переводите деньги и не общайтесь за пределами сайта или приложения Airbnb.
Время прибытия — после 15:00
RENTAL AGREEMENT
This agreement is made between SEQUIM VALLEY VACATION RENTALS and the "Renter". This Agreement is a condition for rental. The cancellation and refund policy is in effect from the time of reservation invoice. Renters who do not comply with the rental policies, as described below, may be asked to leave immediately without a refund and may incur additional fees for cleaning, damages and/or loss.

PRIVACY STATEMENT: Renter information will be used solely for stated purpose and will not be sold or shared with any other party.

RENTAL SUMMARY: Sequim Valley Vacation Rentals agrees to provide the use of the rental property named for the specified time period and costs; subject to the terms, conditions, policies and information stated in this Agreement. The rental property shall be used only for the residence and no illegal purposes or activities. The Renters shall not sublet the vacation rental property. Fifty percent of the reservation cost must be paid upon reserving. The balance is due in full 30 days prior to scheduled arrival date.

PET POLICY:
This pet policy applies to dogs. We only accept dogs as pet guest. No cats please.

Some of our properties do not allow pets. Regardless of whether the property is a no-pet home or a pet-friendly home, if there is evidence of an undeclared pet during or after a renter's stay, that renter is subject to a $250.00 fine.

Renters with approved pet guests in their party are subject to the following rules:

There is a $50 pet fee per pet.
Pets are not allowed on furniture, beds or in hot tub if available. Pet fur or hair is difficult to remove from upholstery and bedding. If your pet has a habit of getting on furniture then bring along a covering for furniture to protect the fabric from pet hair.
Pets are not to be left unattended in the home unless properly crated. When outdoors, the pet must be on a leash unless there is a fenced yard.
Renters shall clean up and properly dispose of pet waste both at the property and on walks.
Renters shall not use any rental property towels, blankets, pillow, etc. for pets unless specifically assigned pet supplies in the rental.
No pet shall be allowed to be a nuisance such as excessive barking.
The renter is responsible for any damage inside or out caused by the pet. If damage is such that it cannot be removed or repaired to its original condition, then renter agrees to pay the full amount of that item.
The renter agrees if there is reasonable cause to believe an emergency situation exists with respect to the pet and if efforts to contact the renter are unsuccessful, the rental manager or agents may contact the local animal control authority and assist its staff in entering the vacation rental. Emergency situation could be suspected abuse, abandonment, fire or other disaster or any prolonged disturbance or nuisance.

NUMBER OF GUESTS: All overnight guests should be included in your party information. Additional guests on property for a daytime event must be approved by Sequim Valley Vacation Rentals.

DAMAGE AND THEFT POLICY: Damages and/or theft that results during from the rental party stay or Renter negligence will be assessed at actual labor and replacements costs and charged to the Renter. Any loss of rental income due to such damage or theft will be automatically charged to the Renter. Renters are responsible for the security of the property during their stay. Close and lock all doors when property will be unattended. Renters are expected to take reasonable measures to prevent damage and/or theft during their stay.

GOOD NEIGHBOR POLICY: All rental properties are located in residential family communities. It is essential that all renters and guests respect the privacy of their neighbors - no trespassing on neighboring properties, no loud events, and pets (if present) should be controlled, quiet, and picked up after. General quiet hours are from 8 PM to 8 AM.

HOT TUB AND POOL POLICY: For rental properties with hot tubs, it is the Renters responsibility to ensure they are maintained in a safe, clean and sanitary condition during the Renter stay. Hot tubs will be adjusted and cleaned prior to possession of rental. If the hot tub is left dirty at the end of the stay a charge to dump, clean and refill the tub will be charged to renters credit card. The Renters are responsible for keeping the cover installed and cover hold down straps secured at all times when the hot tubs are not in use, and at the end of their stay. Showering and removing beach sand from the feet before entering the pool or hot tub will help keep water clean.

SMOKING POLICY: All rental properties are NON-SMOKING properties. Do NOT smoke inside any of the rental homes. Please smoke only 25 feet away from any open door or window and dispose of cigarette butts responsibly in a closed container that you can remove with you at departure. If there is evidence that smoking within the rental home a $250 charge will be charged to the Renter

OUTSIDE BURNING: Is prohibited when a burn ban is in effect. If the home is equipped with a metal fire pit or a built in fire pit then a small recreational fire is permitted, unless there is a general no outdoor burning ban posted by the local fire department. All wood burnt must be dry and seasoned. Renters are responsible for bringing their own wood. Here are the rules for recreational fires in our county:

There is a burn ban every year from July 1 to October 1 (weather permitting) when no outdoor burning is allowed except for Recreational Fires as per the rules...

RECREATIONAL FIRES
"Recreational fire" means cooking fires, campfires, and bonfires 3 feet or less in diameter using charcoal or seasoned firewood that are designated areas or on private property for cooking, pleasure, or ceremonial purposes. Recreational fires shall not be any larger than three (3) feet in diameter or two (2) feet in height. The Recreational Fire must be located a minimum of fifty (50) feet from any structure. Portable fireplaces/pits, usually metal, must be located a minimum of fifteen (15) feet from any structure or combustible material. Fires used for debris disposal are not considered recreational fires. Clallam County Fire District 3 does not require a written burn permit for recreational fires less than three (3) feet in diameter and less than two (2) feet in height. Recreational fires shall have a shovel, connected water hose or five (5) gallons of water in a bucket on site, and a responsible person shall be in attendance at the fire until it is extinguished.

TELEPHONE POLICY: Most of our properties no longer have house phones. If there is one at the house you are staying at, use your calling card or cell phone for all non-local calls. Any non-local calls will be charged to the Renter`s credit card along with an addition processing fee of $25.

CHECK-OUT POLICY: Check-out is no later than 11 AM on the day of departure, unless you have made a reservation with a late check-out option. Late check out must be approved and is subject to an additional fee of $25.00. Late check out is no later than 1 pm on date of departure. Prior to final departure, dispose of rubbish, garbage, and wastes in the designated receptacles. Please tidy the kitchen including all dishes, utensils, stove top, oven and counter tops.

KEY RETURN POLICY: Most properties are on a key code system. Renters will receive their key code or instructions on where to get a physical key via email upon confirmation of reservation. Failure to return all keys will result in a $125 lock set replacement fee that will be automatically charged to renter.

SUBSTITUTION POLICY: Unexpected situations not related to the Renter`s actions may occur where the reserved rental property becomes unavailable for the Renters use. Examples include but are not limited to fire, flooding, equipment problems, change of ownership, unsafe conditions, etc. In the unlikely event a rental property becomes unavailable, Sequim Valley Vacation Rentals will make all reasonable attempts to re-book the Renter into another comparable rental property or provide a 100% refund and assist the Renters in finding other suitable accommodations in the Sequim area. The Renter(s) agree to release Sequim Valley Vacation Rentals from any and all costs and claims incurred by the Renter(s) due to rental property unavailability.

REPORTING POLICY: The Renter(s) are responsible for immediately reporting any damages or thefts, which occur to the rental property, to Sequim Valley Vacation Rentals. If at check-in you suspect existing damages or possible thefts, immediately notify Sequim Valley Vacation Rentals at ((PHONE NUMBER HIDDEN).

ACCESS POLICY: Sequim Valley Vacation Rentals staff and/or assigned repair persons shall have the right to enter the rental property for inspection, repairs, servicing, cleaning and laundering. Access shall be limited to reasonable times except in case of emergency or abandonment.

RELEASE OF LIABILITY: The Renter(s) agree(s) to hold Sequim Valley Vacation Rentals and/or the rental property owner harmless in the event of any act by the Renter(s) that result(s) in the injury or financial loss to Renter(s) occurring on the rental property. Additionally, the Renters agree to use any stairways and/or the trails to beaches at their own risk and furthermore agrees to hold harmless Sequim Valley Vacation Rentals and/or the rental property owner if any injury or financial loss occurs to the Renter(s) while using trails, stairs, beaches, tidelands, hot tubs, pools, or the rental property.

OTHER PROVISIONS: The representative for Renter(s) entering into this rental agreement is at least 21 years of age and has the capacity to enter into legal agreements. Any persons less than 21 years of age included in the Renters party are accompanied and represented by a responsible adult guardian who is at least 21 years of age. This agreement will be governed by the laws of the state of Washington. If any legal action is necessary to enforce this Agreement, the prevailing party shall be entitled to reasonable attorney fees, costs and expenses in addition to any relief to which he or she may be entitled. This Agreement does not create a partnership relationship. Neither party has the authority to enter into contracts on the other`s behalf.

SIGNATURES: The confirmation of your online reservation is considered your agreement to these rental terms and conditions. If your reservation was made over the telephone with our office, please respond to this email that, "I agree to the terms and conditions of this rental agreement."
3 ночи — минимальная продолжительность бронирования
Clean and modern. Very well equipped with all Necessities clean and cozy. The only thing that was not practical is the size of the living room. The living room is extremely small it's not even comfortable to fit 4 people in it. Other than that rooms were good size bathroom was a good size kitchen was a good size very clean and a very nice home.
---
The house in Sequim was lovely! Clean, comfortable and relaxing. The kitchen was outfitted with all that we needed—we are good cooks and like to make most of our meals at "home" when traveling which was easy to do with the nicely appointed kitchen. The bed was super comfy and the showers awesome with tall shower heads and lots of water pressure and hot water! Always a big plus after hiking out in the cold! The house was modern and new and the design of the space was well thought out. It was really nice having two bathrooms, upstairs and downstairs. There was plenty of room for the two of us and our two large dogs, they had also had an x-pen available that you could block off the front entry steps with so your dogs could hang out on the lovely wrap around porch for morning coffee with you with without concern of them romping off after the wildlife surrounding the house. There was also a nice outside seating area with a fire pit, we did not use it as it was a bit too cold when we were there. The Sunny Farms Country Store (market) had amazing food and grocery options, especially their organic produce and meat counter. We made some awesome meals all four dinners and breakfasts with groceries from the market. We even bought produce there on our way out of town to take home with us! I use Airbnb a lot and like to leave useful information in my reviews for others considering staying at the house. I know I certainly appreciate added details when considering a place, so with that in mind here are some things to be aware of. Nothing bad, just helpful info. If you are bringing dogs there are a couple of things to be aware of: • The floors are super slick, easy to clean and don't collect dog hair, but they can be challenging for dogs who have any mobility issues or environmental concerns about slick floors. We always bring some extra rubber bottomed bath mats to places we stay so the dogs have pads they are used to sleeping on and for traction. We are REALLY glad we brought them this time. Our older dog had a hard time navigating the slick floors and especially the slick steep steps up to the upstairs bedroom. (Humans should be careful on the steps too!) In fact we had to carry her (all 90 lbs. in a harness) up and down and finally the forth night we just blocked the stairway and left her downstairs to sleep. • There is lots of wildlife and deep woods surrounding the house, it is not a place that I would allow my dog off leash even just to go out to potty. If they are chasers at all you could loose your dog to the woods and have a hard time following after them! • One more tip regarding the house and dogs, the...
---
This lovely property was our home for 8 days. Well-equipped, modern kitchen and super-clean modern bathrooms. Comfortable beds, washer and dryer, lovely large deck. The house was "in the woods" but convenient for our activities in Sequim, Port Angeles and Olympic National Park. The main floor living area was "cozy" but adequate for our 4 adults and baby. We would not hesitate to recommend this property!
---
We had a great stay. The cabin is secluded and quiet, but close to Sequim and an amazing grocery store (Sunny Farms). We used the fireplace every night, and really appreciated the clear directions on getting it started. Thanks!
---
Great house. Great location. Ideal for Olympic National Park
---
Here at Sequim Valley Vacation Rentals we understand what makes a vacation home right for our guests. We make it our business to find vacation rentals of the highest standard that go above and beyond our guest's expectations. By providing the finest in vacation rentals we can ensure that our guest's vacation is a success no matter which property they decide to stay in.

We know what it takes to run a successful vacation rental management company. Providing quality homes, cleaned by quality employees, and providing quality customer and concierge service is what sets us apart from the rest. Whether you are renting with us or putting your rental in our hands as an owner you can be sure that you working with the best.

We are located in the Sequim-Dungeness Valley along the Strait of Juan de Fuca on Washington's beautiful North Olympic Peninsula. Sequim offers convenient lodging for visitors of Olympic National Park, Dungeness Spit National Wildlife Refuge, Victoria BC Canada, and the North Olympic Peninsula Pacific Ocean shores.
Языки:
English
Частота ответов:
100%
Время ответа:
в течение часа