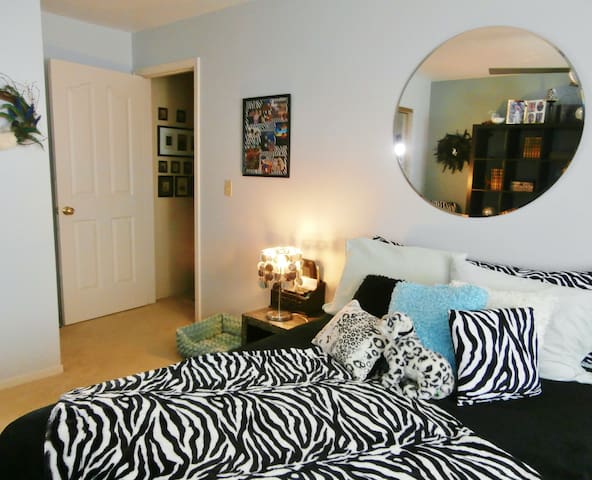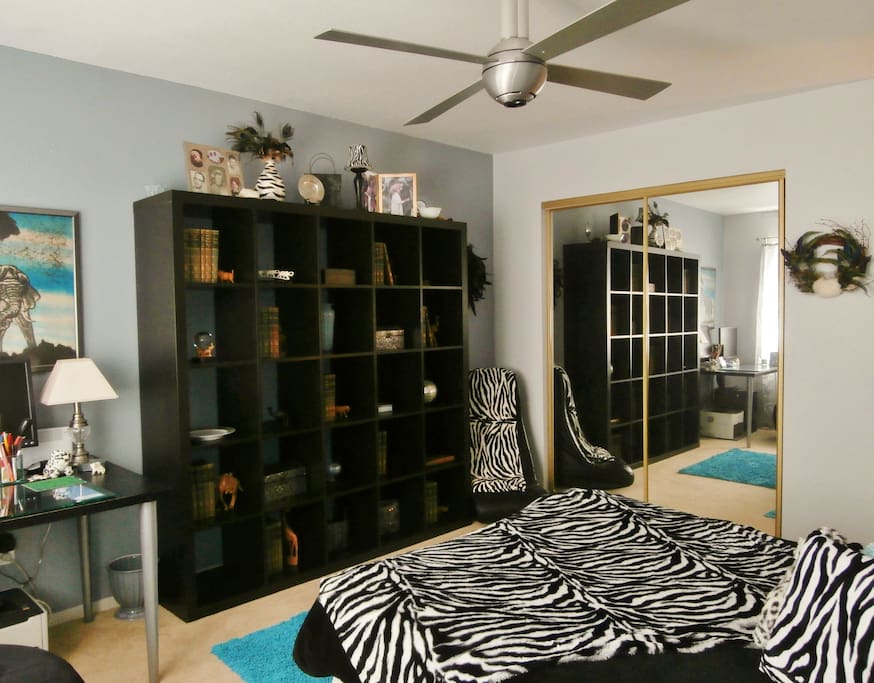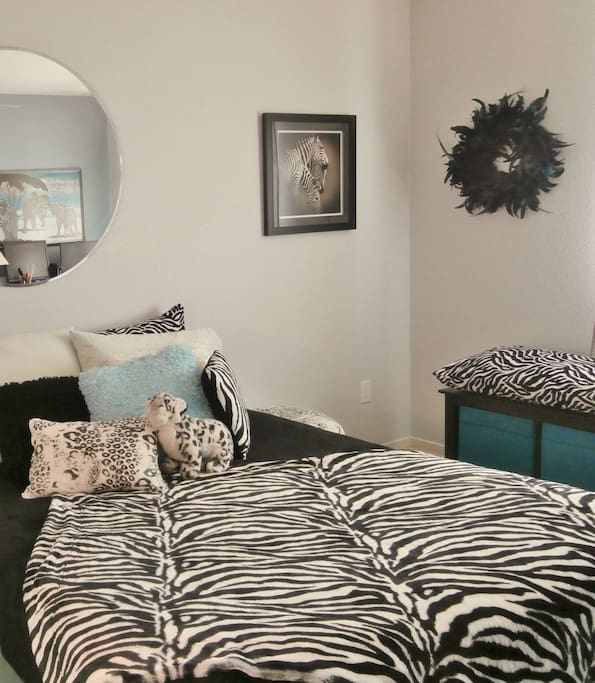 Wine Country: Africa Rm w/Breakfast
For your comfort, PLEASE check our guidelines before booking with us!
Our Africa Room offers relaxing quiet, in an exotic atmosphere with great lighting (for nonsmokers/nonvapers only!)
Near Napa Wine Country, we can help you plan your tour if you wish! Enjoy Discovery Kingdom or the JellyBelly factory tour!
Жилье
We are not fans of the request to book button.
Please scroll down to the bottom of the listing to Contact Host or Ask a Question. First, we do not guarantee that the calendar is up to date. If you CONFIRM no one in your group uses nicotine in any form, you will also receive faster service.
Tell us a bit about your trip and yourself. We prefer people with manners.
We are able to host groups of up to 12. This room accommodates 1 to 3, although we list it for two. We can add a bed, but it will be crowded.
If you lean towards the wild, our Africa room is designed for you! Decorated in an animal theme, you'll be sharing with Zebras, White Tigers and Elephants! Oh MY! This is our most secluded room, so you will have plenty of privacy. With a QUEEN bed on a lighted platform you can relax or get animal! It is located downstairs from the main floor, with a wonderful, San Pablo bay view. It also has heavy dark curtains, so it is a good room for day sleepers.
You can take care of business during the day, since the room has a desk top, and printer.
On a practical note, this is our warmest room in the winter and coolest in the summer.
Feel free to check out our other rooms, as well...
(A single futon can be added to any room if desired.)
We offer our home to NONSMOKERS (of anything, anywhere) ONLY!
**** PLEASE, BEFORE CONTACTING US, READ THE HOUSE RULES*** You will be given priority over guests who do not. In the high season, we may get 5 requests a day.
Доступно гостям
We offer a true BnB experience. There is ALMOST ALWAYS (but not always) someone present to host and care for your needs.
INSIDE: Your room, Kitchen, Living Room, Dining Room,and two baths. Wifi, Surround sound and laundry are available (ask for help!)
OUTSIDE:
On street parking is plentiful. Off street parking may be available. Please ask.
Our backyard is a work in progress, but please enjoy the deck, and firepit, which have expansive views of the city towards Mt. Tam and San Pablo Bay.

Access to the deck is only from the family room, which is owner's work space, and not common area. The photos show the room at its best, and we are giving you notice that is the most "lived in" room. Okay, often a mess! Jerry is social when working; Jamie is not.
Общение с гостями
HOSTS ON PROPERTY:
If you feel our presence is required, please let us know. We also want to feel welcome in your presence - it is best if you communicate your level of need for privacy.
Jerry will be happy to prepare a yummy Continental breakfast during short term stays. This includes his ever popular waffles, yogurt, fresh fruit, real maple syrup and cereals, coffee and tea.
If you have special dietary or scheduling needs, we can work with you. Communicate with Jerry, regarding same.
Jerry is diabetic, and must eat when he must eat. With that in mind, cook away.
We can actually do (with Jerry cooking) sit down dinners for 1-18 guests! (We have done over 200 events!)
HOSTS OFF PROPERTY:
Help yourself to precooked - but the same home made waffles, cereal, coffee and tea, sweeteners and milk for breakfast. You may also use condiments, spices, oils, and vinegars for other meals.
LONG TERM GUESTS: Discounted rates generally exclude breakfast and limit use of kitchen staples.
Другие важные подробности
Если вы здесь, когда вы проводите домашнюю охоту, Джейми - REALTOR® RE / Max Gold. ДРУГИЕ Профессиональные бизнес-услуги: ~ Транскрипция (включая медицинскую) ~ Подписание ссуды на недвижимость ~ Общее нотариальное заверение Залог в размере 100-250 долларов США будет удерживаться за номер, и если нет повреждений или курения, он полностью возвращается. Мы хотим вернуть его ВСЕ! У нас есть собака-пудель-собака, Blizzard. Он очень хорошо себя ведет. Он будет игнорировать вас (если вы не дружите с ним), и это HYPOALLERGENIC и блоха бесплатно. !!!!! Не пытайтесь погладить его у входной двери! Дайте ему время, чтобы согреться вам !!!!! ЕСЛИ МЫ ДОЛЖНЫ СДЕЛАТЬ ИЗМЕНЕНИЯ В ДОМ, ИЛИ У ВАС НЕОБХОДИМЫЕ НУЖДАЮТСЯ, ЧТОБЫ ПОТЕРЯТЬ ВАС, МЫ МОЖЕМ СОЗДАТЬ ДОПОЛНИТЕЛЬНЫЙ ДОГОВОР ВЫШЕ И ПОСЛЕ ТОКСА AirBnB.
If you are here while you conduct a house hunt, Jamie is a REALTOR® RE/Max Gold.
OTHER Professional business services available: ~Transcription (including Medical)
~Real Estate Loan Signing
~General Notarization
A $100-250 security deposit will be held per room, and unless there is damage or SMOKING, is fully refundable. We want to give it ALL back!
We have a toy poodle service dog, Blizzard. He is extremely well behaved. He will ignore you (unless you are friendly to him) and is HYPOALLERGENIC and flea free.
!!!!!DO NOT Try to to pet him at the front door! Give him time to warm up to you!!!!!
IF WE HAVE TO MAKE ALTERATIONS TO THE HOUSE, OR YOU HAVE UNUSUAL NEEDS, IN ORDER TO ACCOMMODATE YOU, WE MAY CREATE AN ADDITIONAL CONTRACT ABOVE AND BEYOND AirBnB's TOS.
---
Предметы первой необходимости
---
Спальня 1
1 кровать Queen Size
---
We are NOT at the property every day. You may be asked to let yourself in, and may stay alone one or more nights, but we do not offer a vacant house. This is our SECOND home.
You might Copy C the 5 questions below and use it as a template for your first contact. We appreciate it if you answer ALL the questions. This will save you time in the long run, and make me feel more inclined to accept your reservation when we have choices. In giving up my whole house to someone, hubby and I need to feel respected from the outset.
The actual rules follow these questions...
1) Are you looking exclusively at our property or contacting multiple hosts?
2) What are your plans during your stay time wise which might impact us, and when will you want to arrive and check out?
3) What are you hopeful to experience in terms of food preparation? Any special dietary needs?
4) Tell me a bit about each of the people in your party, if not included in your profile. Photo ID is required for those not who are not your spouse, parent or child. Yes, you can find less experienced hosts who will not ask for this. This request comes with experience, something you might value!

5) Is this a trip you are certain you are taking (should we start preparing for you this minute?) or are you still in the early stages of organizing? This is a very important question to us, so please answer this is particular.
We will almost always try to respond to you within a matter of minutes,to let you know we are in receipt of your contact. If at our other property, this can be a bit difficult, so we may be very brief, but we will do our best to answer questions on the double.
Now onto the actual rules:
Photo ID of each guest who is not your spouse, parent or child, should be sent to our email address prior to your arrival (for insurance purposes, and to allay the anxiety of my co-owner of the house).
Please note that we and our other guests use our family room, too, and it is not EVER to be used as a sleeping area!

Our main concern is that our guests are NON SMOKERS. We are serious about this. By smoking prior to arriving at the property, on the property or DURING YOUR STAY of ****any**** substance,YOU AGREE TO FORFEIT YOUR ENTIRE SECURITY DEPOSIT. NOTE: The listing says deposit is one amount, but it doesn't allow for variable length stays. We reserve the right to increase the Deposit amount.
Next in importance, we would ask that food and drinks are not brought to your room, but you eat and drink on the main floor only. (Except water.) We discourage tiny cattle (ants) to come inside, and recently had the house treated. But food in your room, is your personal invitation to them, so expect ants to want to share your leftovers and maybe your bed. Crumbs on the counter have the same effect, but at least you won't be sleeping there!
We prefer you wear socks in the house, no shoes. If you need socks, just let us know.
You may cook in our kitchen; Jerry has every cooking implement known to man. If you are going to be around on a night when Jerry is cooking anyway, he or you might suggest incorporating your meal into ours and letting him cook for all of us. Or you could make the same offer as long as my dinner is pepperless, curryless and cilantroless. Be advised, sometimes Jerry is too tired to cook even for me. He does make really amazing food, however.
If you prefer to cook yourself without combining meals, that is fine, too. DO NOT PLAN ON TAKING OVER THE KITCHEN FOR MORE THAN 60 MINUTES!
Please clean up after yourself immediately after your meal, please don't wait until the morning. If you don't think something is clean enough already, please let us know and we will clean more. We won't be offended. Different people have different tolerances for dirt, and you are paying for clean. We will be unhappy if you down grade us for cleanliness, without ever having said anything about it. We watch our stars so we can tell when it changes!!!
If you shower, please use your bath towel to dry down the shower for the next person, who may not be in your party.
Dirty laundry goes in the basket in the hallway or on the laundry room floor. Please don't leave wet towels in your room or bathroom. Let's discuss a plan that works for both of us.
If you are showering before 8:30 in the morning please shower in the downstairs bath if the India room is occupied.
Towels are plentiful under the cabinets (always closest to the entry when there are multiple cabinets). We have tons of towels, so please let the decorator towels remain a decoration.
Laundry is available, but please ask before using so I can give you instructions on our front loader.
WE ARE IN A DROUGHT! PLEASE BE MINDFUL! Jamie is going to want to insert herself into your laundry plans. When you shower, which you are allowed to do on your own, lol, please do not use more water pressure than you need. Do not use the dual heads simultaneously.
The downstairs bathroom is supplied with skin care samples, and lots of other fun goodies for girls and metro guys. Feel free to try stuff. There should be cotton balls, pads and q tips for application. You may also use the house body and hair shampoos, lotions etc. which are in the shower. If I don't want it used, I won't leave it where you can access it. The exception is my husband's hair brush if he forgets to put it away, as well as razors.
If you leave your own stuff in the ladies room, other ladies may think it is Jamie's and try it. We recommend storing your personal items in your room.
We will be happy to share our wifi. If you have access to one of our computers in your room, please don't open attachments or go to adult sites, or anything else you know to be risky in terms of computer viruses. You can watch rented movies on the computer if you like if there are speakers. Redbox is 5 minutes away.
PLEASE DO NOT FEED THE DOG ANYTHING! He is on a special diet and his food is timed to establish his role in our family, and because he was just recently ill from eating the wrong foods. His name is Blizzard. He is a service dog for Jamie, but he is Jerry's dog in his heart. He is not always the friendliest dog in the world, but he is extremely well behaved. Women with high pitched voices who wave their hands near his face, are threatening to him.
On a rather gross note, Blizzard seeks protein, so don't leave protein in the garbage cans on the floor. Either keep the garbage stored off the floor OR deposit feminine and um, uh, latex products in the trash compactor in the kitchen.
Our main request is that if you need something, that you tell us, and if we can, we will provide it. If there is a problem, please tell us in the moment and perhaps we will certainly do our best to fix it!
Hopefully you will have a great stay and give us a great review when you are done. We only review those who review us, and we try to do so within 72 hours of yours being posted.
Вы должны также принять к сведению
В доме живут собаки
---
Вальехо, Калифорния, США
На сайте с сентябрь 2011
Yes, we DO eat a lot of waffles around here! We are a modern, married couple in a fun, stable relationship. We both work hard but enjoy skiing, dancing and travel as well. We have enjoyed hosting parties and dinners, but now we have put that aside to host travelers instead…
Языки:
English
Частота ответов:
100%
Время ответа:
в течение часа
Открывайте новые возможности в г. Вальехо и поблизости
Другие варианты жилья в г. Вальехо: