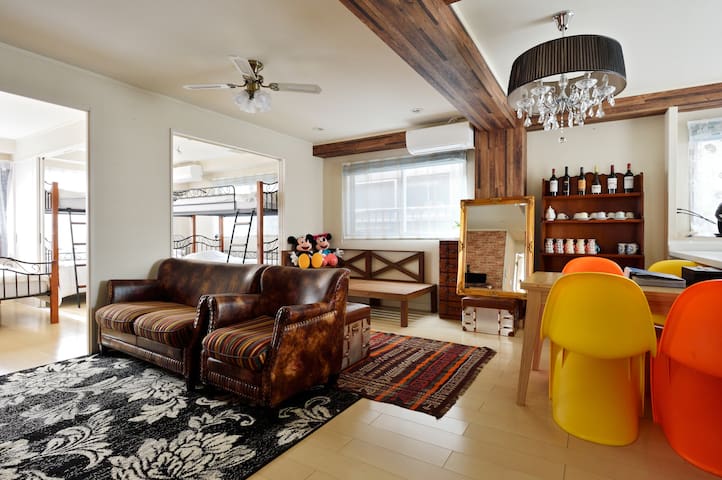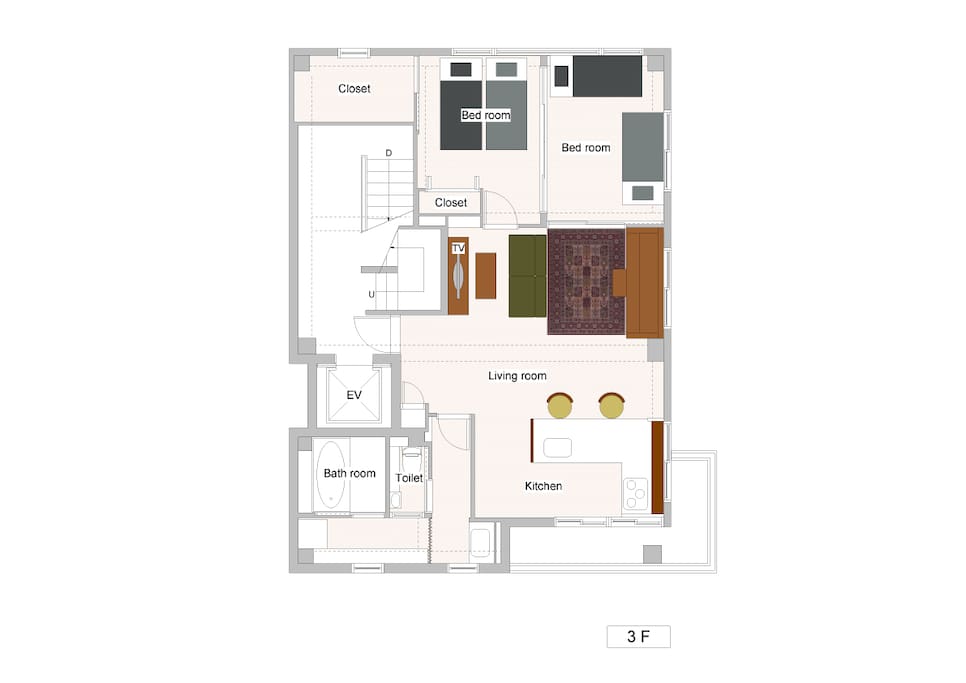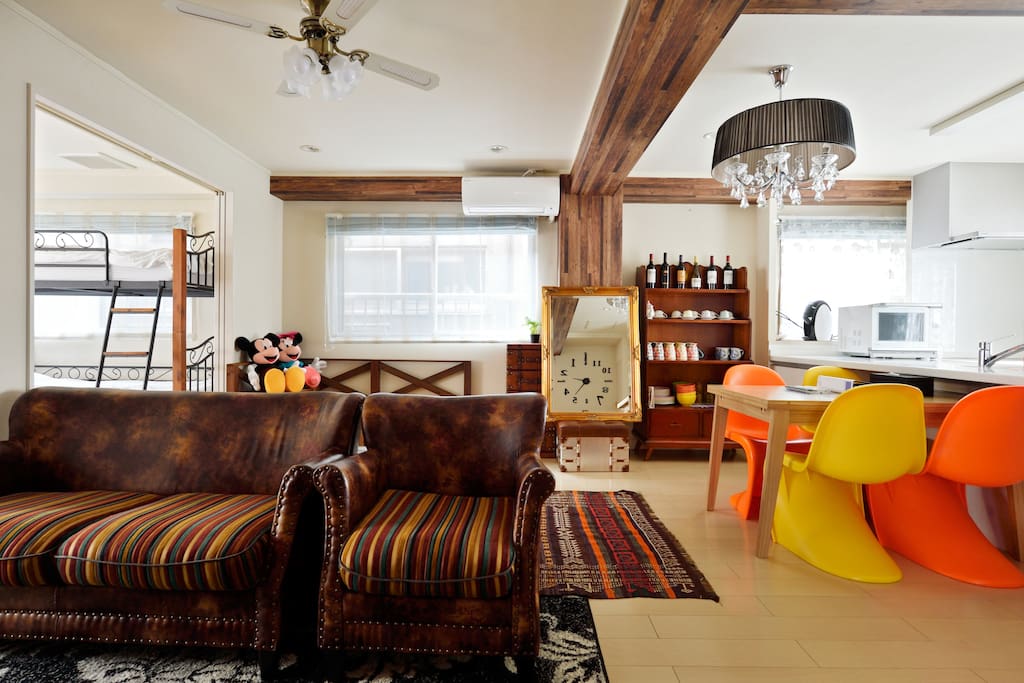 A truly luxury and comfortable room designed by interior designer.
This new room is good located and suits for every guests who like sightseeing around Osaka. You are only 10 minutes to Namba: Dotonbori, 8 minutes to Nipponbashi: Kuromo market, Denden Town 12 minutes to Doubutsuenmae Station: Tsutenkaku, Shinsekai by subway. The nearest station "Tanimachi-4chome" is only 1 minute away from the apartment.10 minutes to Osaka Castle by walk. I am looking forward to host you with room. Best regard
Жилье
A truly luxury and comfortable room designed by interior designer.
This new room is good located and suits for every guests who like sightseeing around Osaka. Unlimited Wi-Fi is in the room. All facilities are luxury and comfortable. The dining room has big enough space for large number of guests. At kitchen there is the newest IH and wide table. I hope you can relax while you are staying. The room has not only the newest bathroom, toilet, and kitchen too. You can enjoy in and around the apartment. I am looking forward to host you with this apartment. Best regard
Room
2 bedroom & living room & kitchen
Facility
6 beds
Television
Air conditioner
Washing machine
Low table
Balcony
Auto lock
Kitchen
3 induction heating
Automatic washing machine
Refrigerator
Microwave
Electronic pot
Cookware
Bathroom & toilet
Shower
Bathtub
Toilet
Shampoo
Hair conditioner
Body soap
Toothbrush
Please feel free to drink water & coffee.
Доступно гостям
You can use every facilities in the room.
While you are staying, you don't share the room with any other guests.
Общение с гостями
If you text me on Airbnb, I will response as fast as I can. And I am also welcome to tell you local place to eat and play. I am willing to help the guests to have a great time in Japan.
Другие важные подробности
Please text me on Airbnb any time if there are anything you are not clear.
Это жилье оснащено всем необходимым в деловой поездке.
Доплата за каждого последующего гостя 1086 р / ночь после 4 гостей
Общайтесь только через Airbnb
В целях безопасности никогда не переводите деньги и не общайтесь за пределами сайта или приложения Airbnb.
Спальня 1
2 односпальные кровати
Спальня 2
1 односпальная кровать, 2 двухъярусные кровати
Зоны общего пользования
2 односпальные кровати
Время прибытия: с 15:00 до 02:00 (следующий день)
Самостоятельное прибытие (doorman)
★English★
---------------
★Before Check-In★
- Feel free to message us and ask us anything you need to know
- After booking our apartment, we will send you instructions about the check in and what informations we need from you to make our schedule.
- Our cancel policy is set to strict like every other Host. Be aware of that.
- Free early Check In or store the luggages might be possible. But we can't promise.
★Check In and Stay★
- We will meet you for the Check In. While I explain you everything, I will have to take your Passports informations, since this is a Law in Japan.
Shortly after your leave and there have been no trouble, we delete them.
1. This is no Hotel. Please use our room politely;
..which means, leave the apartment common clean used.
-- Trash where it belongs to. No open trash anywhere.
-- Let us know if something breaks.
-- Toilet/Bathroom, Kitchen used with respect.
-- Smoking only outside or Balcony.
-- Don't abuse the japanese law due to any behavior. (Drugs,..)
-- Don't be noisy after 23:00 'o clock.
2. Please don't answer to intercom or knocking to door. (Except its 100% us)
3. Please don't smoke inside the room. (A fire alarm can be activated.) Doing so will result in paying a penalty of JPY 10,000円.
4. Please turn off the hair dryer, iron, IH machine at risk of fire when you are out the apartment.
5. Please don't dye your hair. You will be charged JPY 30,000円 for cleaning if there is any colored part on the facilities, bath or basin in the house.
We provide you 24h availability. Contact Informations are given at the Check In.
In case we have to come to the apartment between 23:00-08:00, due to a problem caused by you, we will charge JPY2000円 extra.
★Check Out★
・Check-Out: Before 11:00am. Overstay from 11:01am will be charged as mentioned below.
1.Please check if the apartment looks politely used.
Respectful clean is enough.
2. Just put the Key back to the Check In place ONLY.
3. Dropping a message is appreciated but not necessary.
[Extra Fee]
Unauthorized late Check Out - per person JPY1500円 within the first hour, then JPY2000円 per person.
Lost Key - starting from JPY10.000円
Lost Pocket Wifi - JPY18.000円
Noisy at Midnight from 00:00 (complain by neighbours) - JPY4000円
Smoking in the apartment - JPY10.000円
Stolen belongings like Towels, Magazine, Charger.. -each item JPY2000円
Unauthorized additional guests - each person per night JPY3000円

★Cleaning&Washing★
We only clean the Apartment after your Check Out.
We don't clean or wash during your stay.
Washing Machine and Detergent are provided.
Shampoo, Conditioner, Bodysoap are provided.
Toiletpaper, Trashbags are provided.
If empty, please message us.
★Trash★
If the trash is full, please do not stack it.
Tie it together and put the Trashbags on the balcony.
We remove it then.
We only accept trash in plastic bags-closed.
New Trashbags are in the closet.
★Korean★
---------------
★ 체크인 전 ★
- 우리에게 메시지를 보내고 알아야 할 것이 있으면 언제든지 물어보십시오.
- 우리 아파트를 예약 한 후 수표에 대한 안내와 일정을 잡기 위해 필요한 정보를 보내드립니다.
- 취소 정책은 다른 모든 호스트와 마찬가지로 엄격하게 설정됩니다. 그 사실을 알고 있어야합니다.
- 무료 일찍 체크인하거나 짐을 보관할 수 있습니다. 그러나 우리는 약속 할 수 없습니다.
★ 체크인 및 숙박 ★
- 우리는 체크인을 위해 당신을 만날 것입니다. 나는 당신에게 모든 것을 설명하고 있지만, 여권 정보는 일본의 법률이기 때문에 가져 가야 할 것입니다.
퇴근 후 아무런 문제가 없으면 삭제합니다.
1. 우리가 말했듯이, 이것은 호텔이 아닙니다. 정중하게 방을 사용하십시오
..즉 아파트를 깨끗하게 둡니다.
- 그것이 속한 휴지통. 아무 곳에서나 휴지통을 열지 마십시오.
- 뭔가 이상이 생기면 알려주세요.
- 화장실 / 욕실, 존경과 함께 사용되는 주방.
- 밖에 흡연 또는 발코니.
- 어떤 행동으로 인해 일본 법률을 남용하지 마십시오. (약제,..)
- 23 시까 지 시끄러워 하지마.
2. 인터콤에 응답하거나 문을 두드리지 마십시오. (100 % 우리를 제외하고)
3. 실내에서 담배를 피우지 마십시오. (화재 경보기가 작동 될 수 있습니다.) 그러면 10,000 불의 벌금이 부과됩니다.
4. 아파트 밖으로 나올 때 화재 위험이있는 헤어 드라이기, 다리미, IH 기계를 끄십시오.
5. 머리를 염색하지 마십시오. 집안의 시설, 욕조 또는 세면대에 색깔이있는 부분이 있으면 청소를 위해 JPY 30,000 엔이 부과됩니다.
우리는 당신에게 24 시간 가용성을 제공합니다. 연락처 정보는 체크인시 제공됩니다.
23 : 00 ~ 08 : 00 사이에 아파트에 오셔야하는 경우 문제로 인해 2,000 엔을 추가로 청구합니다.
★ 체크 아웃 ★
· 체크 아웃 : 오전 11시 이전. 오전 11:01 초과 요금은 아래 언급 된대로 부과됩니다.
1. 아파트가 정중하게 사용되는지 확인하십시오.
존경하는 깨끗한면 충분하다.
2. 단지 열쇠를 다시 체크인 장소로 돌려 놓으십시오.
3. 메시지를 삭제하는 것은 감사하지만 필요하지는 않습니다.
[추가 요금]
비공개 늦은 체크 아(URL HIDDEN)인당 JPY1500 엔, 1 인당 JPY2000 엔.
잃어버린 열쇠 - JPY10,000에서 시작
로스트 포켓 Wifi - JPY18.000 円
시끄러운 자정 00:00부터 (이웃 사람 불평) - JPY4000 엔
아파트 흡연 - JPY10.000 엔
수건, 잡지, 충전기 등의 도난 용품 ... - 각 항목 JPY2000 円
허가받지 않은 추가 손(URL HIDDEN)JPY3000 엔
★청소와 세탁★
고객님께서 체크아웃 하신 후에 청소를 할 수 있습니다.
고객님께서 머무르시는 동안에는 청소하지 않습니다.
세탁기와 세제를 제공합니다.
샴푸와 컨디셔너, 바디비누를 제공합니다.
화장지와 쓰레기 봉투를 제공합니다.
위의 항목에서 비어있는
물품이 있다면 알려주시기 바랍니다.
★쓰레기★
쓰레기 봉투가 가득 쌓여 있으면 쓰레기를 쌓아 두지 마십시오.
쓰레기 봉투를 묶고 발코니에 내 놓아 주세요.
우리 청소하면서 버릴 겁니다.
★Chinese★
办理入住手续之前 -欢迎随时向我们发讯息并查询任何问题。在预约我们的公寓后,我们会将有关入住手续指示及信息发给你以便我们安排
-请注意我们的取消政策是像其他旅馆一样严格-
-可以免费提前办理入住手续或存放行李,但不能保证-
-入住和逗留 -我们会在辨理入住手续时见面以便帮助所有注意事项,我将需要你的护照资料,因为这是日本的法律。当你退房后并没有任何麻烦事我们会删除护照的资料
温馨提示:
这不是酒店。请友善地使用,请保证离开我们房间时保持清洁。
-请不要随便丢垃圾 (如有任何破损请通知我们)
-保持卫生间,浴室和厨房的清洁 -只允许在室外或阳台吸烟
-请不要触犯日本法律(违禁药物之类)
-在11时之后请不要喧哗
-请不要回应任何的对讲机或敲门(除非100%是我们)
-请不要在室内吸烟(火警钟会响)当有发现罚款\10,000
-当你离开房间.请关掉所有会造成火灾危險的物件包括吹风筒,熨斗, IH机器
. -请不要染色你的头发。如果房间内的设施,浴缸或洗手盆上有任何顔色部分,您将需支付30.000\的清洁费用。
我们为您提供24小时的服务。联系信息在办理入住手续时会提供。 但如果需要我们在23:00-08:00之间到公寓而造成的不便,我们将收取额外\2.000的费用
退房注意事项:
退房时间为11时。如超过11:01之后会被收取以下费用
1.请检查房间是否整洁才离开
2.只需将钥匙放回到辨理入住的地方就可以
3.可以留下讯息,但不是必需的。
[额外费用]
* 未经批准的延迟退房 - 第一个小时每人JPY1500之后每人2000\。
* 遗失钥匙 - 从JPY10.000円起
* 遗失wifi 蛋- JPY18.000円
* 在午夜12时之后因嘈吵而被邻居投诉\4000
* 在公寓吸烟 - JPY10.000円
* 偷盗物品例如:毛巾,杂志,充电器..-每件物品JPY2000円
* 未经授权的增加客人 - 每人每晚JPY3000円
★清洁和洗涤★ 我们只在您退房后清洁公寓。 我们不在您入住期间清洗或洗涤。 我们提供洗衣机和洗衣液,洗发水/护发素/肥皂/卫生纸和垃圾袋。 如果没有,请给我们留言。
★垃圾桶★ 如果垃圾桶已满,请不要堆放。 把它们绑在一起并放置在阳台上。 我们会丢弃,请注意我们只接受绑好在垃圾袋的垃圾。 (新的垃圾袋在厨柜里)
祝大家有个温馨愉快的住宿
2 ночи — минимальная продолжительность бронирования
私は、大阪生まれの23歳です。
生まれてからずっと大阪で育ったので、大阪での案内はできると思います。
今も大阪に住んでいます。
趣味は旅行、読書、映画鑑賞でたまにトランプゲームをしたりします。
世界中の人々と仲良くなりたいです。
Hello!
My Name is Yuma M. and I'm a typical japanese. Just more open minded!
I'm learning english because I'm highly interested in different cultures and to communicate with them.

We have years of experience in Customer Service and dealing with people around me in a professional way.
That is why We enjoy hosting people like you!

We also offer you to have a night out together or just a dinner. Show you the spirit of Japan and a deeper view of our life here.
Please feel free to contact us anytime, since we try our best to give you an awesome experience. Hopeful with the result, to see you a second time, like some other guests of us.
Языки:
English, 中文, 日本語
Частота ответов:
100%
Время ответа:
в течение часа
Открывайте новые возможности в г. Осака и поблизости
Другие варианты жилья в г. Осака: