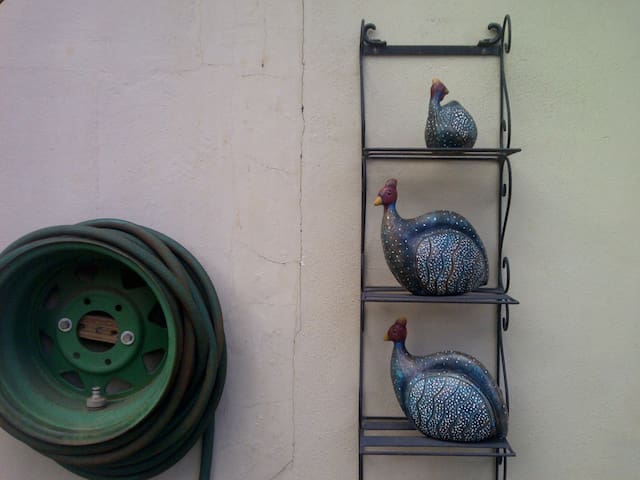 3 bedroom house RENT IN HILTON
Fully FURNISHED 3 bedroom house TO RENT IN HILTON
Lovely secure home available in Hilton (furnished) This warm home is conveniently situated in the leafy suburb of Hilton. Suitable for a family of 6 this can become your home. Call us today this may be just what you are looking for.
If you need a LIFT, we can collect and carry and drop off, at the UBER RATES
Жилье
Fully FURNISHED 3 bedroom house TO RENT IN HILTON
Lovely secure home available in Hilton (furnished) This warm home is conveniently situated in the leafy suburb of Hilton. Suitable for a family of 6 this can become your home. Call us today this may be just what you are looking for.
Includes water, DsTV (commercial subscription, all the sports and movies), Uncapped, LTE Internet access, electricity, cleaning during the week, secure location
Suits a dad mum and up to 4 kids, with secure garage parking off street, Access gate, bath and 2 Showers, own, fenced large garden
Situated in Leonard, close to the Garden of Remembrance, with easy access to the N3
Общение с гостями
Please SMS, e-mail or call - we will help
Другие важные подробности
Things to Do
Nelson Mandela Capture Site
4.5 of 5 stars 262 reviews
R103, Howick South Africa
9.7 km from isi Khoma-khoma Hilton
Karkloof Canopy Tours
4.5 of 5 stars 100 reviews
Karkloof Road, Howick South Africa
9.9 km from isi Khoma-khoma Hilton
Howick Falls
3.5 of 5 stars 147 reviews
Corner of Falls Drive & Morling Street, Howick South Africa
8.9 km from isi Khoma-khoma Hilton
Midlands Meander
4 of 5 stars 49 reviews
Howick KwaZulu-Natal, South Africa, 3290 South Africa
8.6 km from isi Khoma-khoma Hilton
Tala Private Game Reserve
4 of 5 stars 177 reviews
R603 Umbumbulu Road Cascades, Camperdown, Pietermaritzburg 3202 South Africa
13.5 km from isi Khoma-khoma Hilton
KwaZulu-Natal National Botanical Garden
4 of 5 stars 50 reviews
2 Swartkops Rd Prestbury, Pietermaritzburg 3969 South Africa
8.0 km from isi Khoma-khoma Hilton
House of Heart Emporium
31 Warwick Road, Oakpark, Pietermaritzburg 3201 South Africa
4.5 km from isi Khoma-khoma Hilton
Butterflies for Africa
4 of 5 stars 53 reviews
37 Willowton Road, Pietermaritzburg 3201 South Africa
11.6 km from isi Khoma-khoma Hilton
Natal Museum
4.5 of 5 stars 24 reviews
237 Loop Street, Pietermaritzburg South Africa
10.2 km from isi Khoma-khoma Hilton

Pietermaritzburg Worlds View
4 of 5 stars 17 reviews
Pietermaritzburg 3201, Pietermaritzburg South Africa
7.1 km from isi Khoma-khoma Hilton
Karkloof Farmer's Market
4.5 of 5 stars 23 reviews
Karkloof Road, Howick South Africa
9.7 km from isi Khoma-khoma Hilton
Tatham Art Gallery
4.5 of 5 stars 20 reviews
Cnr Commercial Rd/Church Street, Pietermaritzburg South Africa
10.1 km from isi Khoma-khoma Hilton
Karkloof Conservation Centre
4.5 of 5 stars 10 reviews
15km Karkloof Road Howick, Howick 3290 South Africa
9.5 km from isi Khoma-khoma Hilton
Voortrekker Museum
4.5 of 5 stars 12 reviews
351 Longmarket Street, Pietermaritzburg South Africa
10.1 km from isi Khoma-khoma Hilton
Wylie Park
4.5 of 5 stars 4 reviews
Taunton Rd, Pietermaritzburg 3201 South Africa
7.6 km from isi Khoma-khoma Hilton
Cascade Mountain Bike Park
4.5 of 5 stars 2 reviews
McCarthy Dr, Pietermaritzburg South Africa
6.4 km from isi Khoma-khoma Hilton
Umgeni Valley Enviromental Education Center
4.5 of 5 stars 7 reviews
1 Karkloof Road, Howick South Africa
9.7 km from isi Khoma-khoma Hilton
"A breath of fresh air and a ch..." 06/02/2016
"Stunning place for long or sho..." 03/12/2015
Comrades Marathon House
4 of 5 stars 10 reviews
18 Connaught Rd. Scottsville, Pietermaritzburg South Africa
12.0 km from isi Khoma-khoma Hilton
"Ultimate runners" 06/01/2016
"Mecca for ultra marathon runne..." 29/05/2015
St Luke's Anglican Church
4.5 of 5 stars 2 reviews
18 Main Rd, Howick 3290 South Africa
8.6 km from isi Khoma-khoma Hilton
"LIVING HISTORY" 04/12/2015
"Lovely old stone church with t..." 16/05/2015
Macrorie House Museum
4.5 of 5 stars 4 reviews
11 Loop Street/Cnr of Pine Street, Pietermaritzburg South Africa
10.2 km from isi Khoma-khoma Hilton
"Really fascinating" 08/11/2015
"An exciting peek into yesterye..." 08/11/2013
Play Days
4 of 5 stars 5 reviews
Unit 11 Camps Drift Park 3 Barnsley Road, Pietermaritzburg 3201 South Africa
11.5 km from isi Khoma-khoma Hilton
"Email catch up while kids use..." 15/12/2015
"A kids dream come true" 11/11/2015
The Old Prison
4 of 5 stars 3 reviews
4 Burger St, Pietermaritzburg 3201 South Africa
10.3 km from isi Khoma-khoma Hilton
Scottsville Racecourse
4.5 of 5 stars 3 reviews
45 New England Road Scottsville, Pietermaritzburg 3201 South Africa
12.3 km from isi Khoma-khoma Hilton
"An annual event" 13/08/2015
"Great days Racing in lovely su..." 04/06/2014

Pietermaritzburg Railway Station
4 of 5 stars 1 review
Railway and Pine Streets, Pietermaritzburg 3201 South Africa
9.8 km from isi Khoma-khoma Hilton
Crafty Duck Farm
3 of 5 stars 1 review
F1 Chief Mhlabunzima Rd Near Beacon Hill Country Estate, Pietermaritzburg 3201 South Africa
12.7 km from isi Khoma-khoma Hilton
"Kiddie Delight" 13/02/2016
natal zoological gardens
2.5 of 5 stars 14 reviews
Lynn Field Park, Pietermaritzburg South Africa
15.1 km from isi Khoma-khoma Hilton 
---
Предметы первой необходимости
---
Доплата за каждого последующего гостя 1110 р / ночь после первого гостя
Залог за сохранность имущества 6658 р
Общайтесь только через Airbnb
В целях безопасности никогда не переводите деньги и не общайтесь за пределами сайта или приложения Airbnb.
Подробнее
---
Время прибытия: с 08:00 до 02:00 (следующий день).
WELCOME TO
isi Khoma-khoma
If we can assist in any way with your stay, please let us know?
Barry T. Fryer Dudley
Cell: (PHONE NUMBER HIDDEN)Email: (EMAIL HIDDEN)
Fax: (PHONE NUMBER HIDDEN) (SENSITIVE CONTENTS HIDDEN) (PHONE NUMBER HIDDEN)
ADDRESS DETAILS:
5 TINO Road; Leonard; Hilton; 3245; Kwa Zulu Natal 
Essential Services
Life Hilton Private Hospital Switchboard: (PHONE NUMBER HIDDEN)Pre-Admissions: (PHONE NUMBER HIDDEN)-hour accident and Emergency Unit (PHONE NUMBER HIDDEN)
Electricity Please call (PHONE NUMBER HIDDEN) with any emergency.
Monkey Helpline Call Steve on (PHONE NUMBER HIDDEN) or Carol on (PHONE NUMBER HIDDEN) for help.
Mountain Rescue Call Gavin at Mountain Rescue on +(PHONE NUMBER HIDDEN).
N3 Pound Master Pound Master, Bruce Mattison, covers the N3 route.
Pietermaritzburg Fire and Rescue. For forest fires please dial (PHONE NUMBER HIDDEN) can be contacted directly on (PHONE NUMBER HIDDEN) or (PHONE NUMBER HIDDEN)
The Red Alert Team
Control Room - Red Alert Electronic Security Pmb
Office ((PHONE NUMBER HIDDEN)
: Fax ((PHONE NUMBER HIDDEN)
: Fax to E-mail: (PHONE NUMBER HIDDEN)
 
Hilton is a village situated in the hills above Pietermaritzburg and is an integral part of the Midlands Meander. Many of the properties have views towards the mountains or overlooking the lights of Pietermaritzburg. It is a charming village with the character and friendliness of a small artistic community and a number of excellent schools.
Hilton continues to be popular with people of all ages who enjoy the village lifestyle, country atmosphere and good schools, with the bright lights, cinemas and shopping mall of Pietermaritzburg a few kilometres away.
Gardens and wildlife
Beautiful gardens are part of the attraction of the area. In spring many of the gardens are open to the public. The mist belt, with its rich soil, favours the formal country flowers as well as the indigenous plants so prevalent on the valleys. These pockets of natural bush shelter duiker, reedbuck and mongoose, porcupines, wild pig and more. Birdwatchers enjoy the variety of birds in the gardens and the eagles, and kites that breed in the treetops.
Sport and recreation
Hilton boasts a number of sports clubs including, tennis, squash, cricket, bowling, hiking, archery and gymnasium. Golfers have a choice of The Victoria Country Club, The Maritzburg Golf Club, The Howick Golf Club and the Sakabula Golf Club, all within a few minutes. Nearby, Midmar dam offers fishing, yachting, and boating for the water sports enthusiasts.
Culture
The beauty and tranquility of the village has made it a popular choice for garden lovers, artists and crafters.
WALKS – At the bottom of the garden is HIDDEN VALLY with walks along the valley (1-2 KM). For longer walks, turn left out of the gate, and keep going left along the forest walks (4-10 KM).
 
SECURITY
Please take care while you stay with us.
The most important security advice is the DRIVEWAY GATE – PLEASE ensure this is always closed.
Please wait for it to close when you enter and depart
We are surrounded by very dense and almost impenetrable forest so the primary access point is going to be the road.
Please monitor your surroundings and report anything suspicious.
SAPS, Knight alarms, Berg Protection Services and the HAWKS (rangers on foot and on bikes) do regular patrols in the area.
ER24 can be contacted directly on (PHONE NUMBER HIDDEN) or (PHONE NUMBER HIDDEN)
Emergency numbers
I suggest that you have the KSS Control Centre numb(PHONE NUMBER HIDDEN) as a speed dial on your phone. You can call our Control Centre anytime for assistance. You can also consider putting direct number of emergency service providers on speed dial as well.
The Red Alert Team
Control Room - Red Alert Electronic Security Pmb
Office ((PHONE NUMBER HIDDEN)
RULES AND INFORMATION
The purpose of this booklet is twofold:
(a)to provide general information about, and;
(b)to set out the rules applicable.
ARRIVAL AND DEPARTURE
Pease indicate when you will arrive and depart so we can assist.
If you need more than 1 set of keys / remote, please let us know.
If the keys and remote are lost, you will be charged R2 000 to replace all the security system
INTERNET ACCESS
Turn on wireless
Find isiKhoma-khomaConnectAny problems, please (SENSITIVE CONTENTS HIDDEN) (PHONE NUMBER HIDDEN)or CALL (PHONE NUMBER HIDDEN) or SMS (PHONE NUMBER HIDDEN)
DSTV
The following channels are available:
TV - (PHONE NUMBER HIDDEN);
AUDIO - (PHONE NUMBER HIDDEN);
PREPAID METER
The meter number is: (PHONE NUMBER HIDDEN)
ATM's If you bank with Nedbank or FNB, you can purchase your token directly from a Nedbank or FNB ATM. Simply follow the instruction on the ATM for making prepaid electricity purchases.
Easypay Retail stores that support Easypay payments are able to provide Citiq Prepaid tokens. Major Easypay retail stores are all Pick 'n Pay stores, Checkers, Shoprite, Boxer and many others. Please check the Retailer's link for available stores. Remember to take your 11 digit meter number with you.
CASUAL LABOUR
(a)Casual labour may not be employed on the premises (e.g. for washing cars).
(b)The employment of the staff to perform casual labour for guests is prohibited.
.
 
DAMAGE AND LOSS OF PROPERTY
In the case of damage to, or loss of, property the guests, will be required to bear the
l)Removal of crockery and cutlery
No crockery or cutlery is to be removed
(n)No smoking is permitted in the unit
HOUSEKEEPING SERVICES
(a)Week days.
(c)Please leave your keys so the staff may gain access.
.LAUNDRY
(a)Required to do their own personal laundry.
(b)You will be required to supply your own soap etc.
(c)No clothing or any items of laundry may be hung out of windows.
LOSS AND THEFT OF PRIVATE PROPERTY
(a)The B&B accepts no responsibility for the loss or theft of Guests' private property. Guests are therefore advised to take care of all items.
(d)All property left in rooms is left there entirely at the guests own risk. The B*B will not accept responsibility for any losses.
MAINTENANCE
Please report any repairs that need to be carried out
This must be done as soon as possible.
MATTRESSES AND BEDDING
(a)Mattresses and/or bedding are not permitted to be on the floor.
(b)Bedding (sheets, blankets, duvets etc) must be used for their normal purpose and may not be used to cover trunks, tables or used as curtains, decorations or room dividers.
MOTOR VEHICLES
(a)Please do not park in front of the garages.
PETS
(a)No pets may be kept in residence without approval in writing.
SILENCE HOURS
(a)Reasonable quietness must be observed in the Rooms and within the precincts at all times.
(b)Silence must be strictly maintained at the following daily times:
20h00 to 06h30 (8pm - 6.30am)
SMOKING
(a)No smoking is permitted in the dining hall, its foyers and balconies.
(b)No smoking is permitted in any part of a unit. This includes immediately outside the main entrance where smoking could interfere with those entering and leaving.
RISK PROFILE and CODE OF CONDUCT
Guests make use of the facilities of isiKhoma-khoma Guesthouse entirely at their own risk. It is agreed that all signs, notices and warnings will be adhere to. I also acknowledge that the code of conduct or house rules will become an integral part of my behavior and form part of this contract. Although the owners, proprietors, agents and/or employees have made all possible effort to ensure my/our safety, I hereby waive and abandon any claims of whatever nature including, but not limited to injury, death, loss of limb or whatever nature whether arising from fire, armed robbery or any other cause and by whomsoever caused, or arising from the negligence (or wrongful act) of any person on the guesthouse premises, against the owner, proprietor, employees or agents.
I hereby agree that it is a condition of my/our occupation of the guesthouse premises that the owner, proprietor, agent or employees shall not be responsible for the loss or damage of any property brought onto the premises, whether arising from fire, theft or any other cause or by whomsoever caused, or arising from the negligence and/or wrongful act of any person on the premises, and this is deemed to be contracted with the owner on this basis.
The ACCOUNT remains the responsibility of the guest until full payment is received, notwithstanding the fact that the guest may have incurred the charges on his account in the course and scope of his employment or service to any company, business or person, and as such company, business or person is thus liable for the payment of the account.
If I should fail to pay my account in full, the jurisdiction of the Magistrates Court of HOWICK is nominated for the settling of any disputes arising from this contract. I choose my domicillium citandi et executandi at the address reflected under my name on the registration form as completed at my arrival at the guesthouse.
I /We acknowledge the guesthouse's Common Law tacit hypothecs over any of my/our assets as brought onto the Guesthouse premises. I declare that the guesthouse shall have the right to protect the hypothecs at any stage during my stay at the facility should I fail to settle my/our account as per agreement. The guesthouse shall also have the right to sell these assets at any time after 30 days of my departure. Any residual funds will be forfeited in favor of the Guest house.
DAMAGE PROFILE
I/we hereby agree that I/We shall be responsible and liable for any damage caused by myself/ourselves or any of my/our guests at the facility during my/our stay at the guesthouse. All costs of repairs will be for my account and management will be paid/refunded for the repairs done in this context.
CONTACT DETAILSBarry T. Fryer Dudley
Cell: (PHONE NUMBER HIDDEN)Email: (EMAIL HIDDEN)
Fax: (PHONE NUMBER HIDDEN) (SENSITIVE CONTENTS HIDDEN) (PHONE NUMBER HIDDEN)
Telkom mobile: (PHONE NUMBER HIDDEN) Cell C: (PHONE NUMBER HIDDEN)
ADDRESS:
5 TINO Road Leonard Hilton 3245 Kwa Zulu Natal
 
Вы должны также принять к сведению
В доме живут какие-то домашние животные
---
1 ночь — минимальная продолжительность бронирования
---
Community Based Public Private Partnership



Barry T. Fryer Dudley
MBA {IT}; MSc {Image Analysis}; BSc (Hons, Waste Technology), Bsc (Microbiology / Biochemistry)
IMAGE ANALYSIS SPECIALIST
Cell: Email:
Fax:
"If opportunity doesn't knock, build a door." - Milton Berle
PLEASE NOTE NEW ADDRESS DETAILS:
5 TINO Road
Leonard
Hilton
3245
Kwa Zulu Natal


Частота ответов:
100%
Время ответа:
в течение часа
Открывайте новые возможности в г. Hilton и поблизости
Другие варианты жилья в г. Hilton: