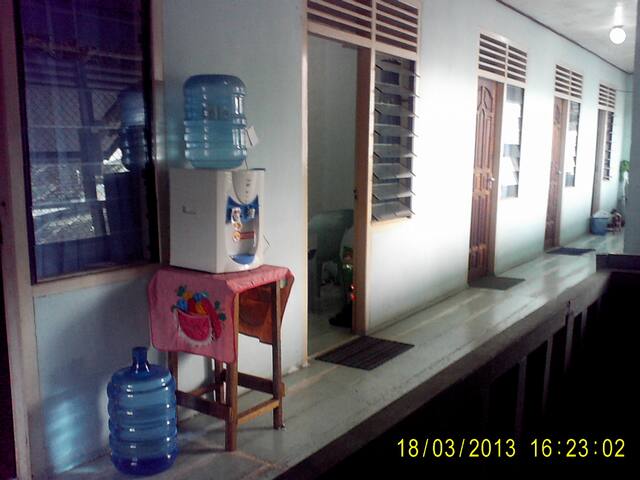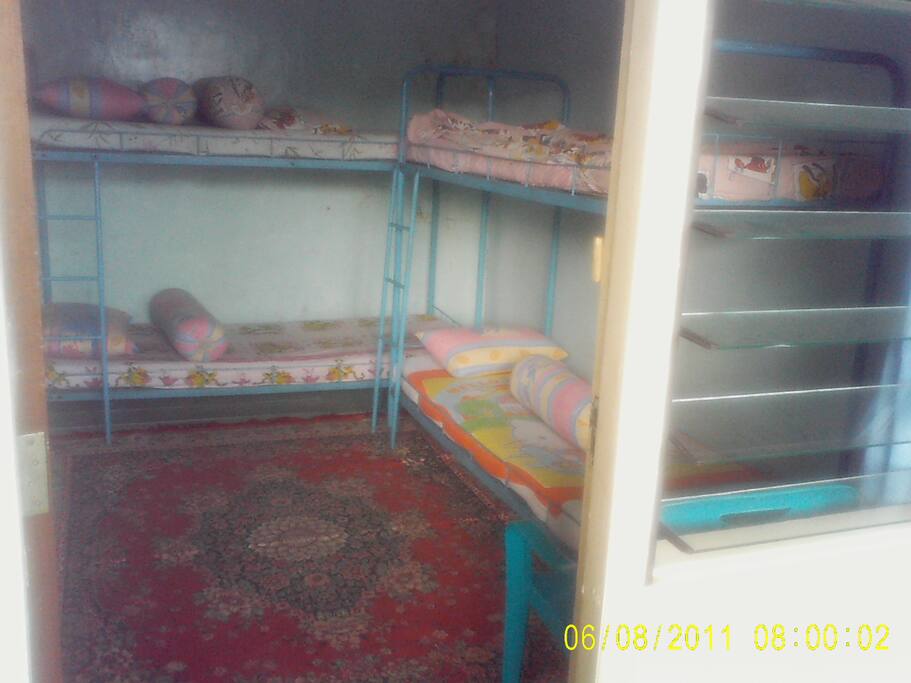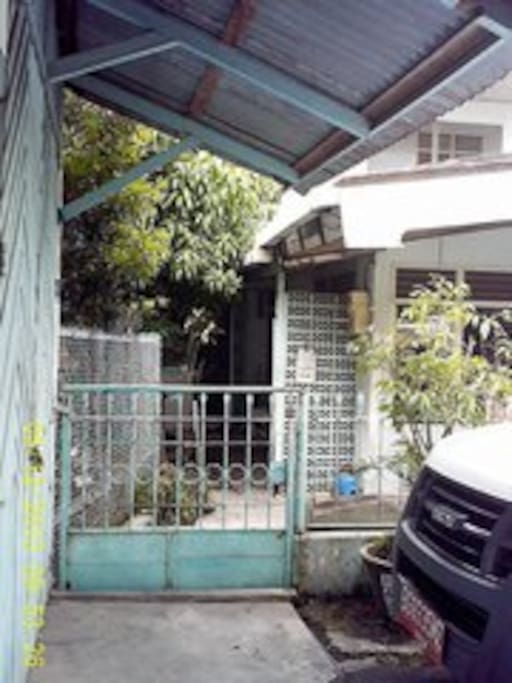 Отдельная комната
3 гостя
1 спальня
4 кровати
4 ванные комнаты
Жилье
Hilariously Cheap, Safe & Convenient
(received monthly, weekly, daily)

offers 2 rooms were ready for the boarding!

facilities; (room can be filled with 3 people)

→ bed (mattress, pillows and bolsters),

→ wardrobe,

→ garages,

→ water (hard water morbidly u / bath & laundry),

→ For cooking heat supplied drinking water (breakfast) in the morning,
→ free electricity (except carrying fan, magic Jarre / rice cooker (electric rice cookers), dispenser / electric water boiler, TV, iron (in particular iron; calculated cost / person in one room), Play station, DVD / VCD / cable TV decoder; masing2 added only Rp 50 thousand / items / month). (If you take the computer sitting 150.000/ month charged Rp. Note: laptop & / note book free of charge.).

About Kost Mawar
Kost Mawar is perfect for those who want to retreat and relax from the fatigue of a large city or a boring routine, Kost Mawar is so quiet, the house and family so pronounced, you will not feel awkward. Kost Mawar is also suitable for people who want to find inspiration as a writer or a painter's work, etc., or it could be inspiration for an important decision. you also get to see something original from Indonesia and the men


general description of the boarding area Kost Mawar.
Kost Mawar close to amenities such as PTC Mall General, Bank BNI, Bank BRI and Bank Mandiri. Lots of Eating in the Kost, if lazy out Kost, there are food vendors commonly stopped at a boarding Kost Mawar. Like, Green Peas porridge in the morning Approximately time between the hours of 8 am until 10 noon, there Jamu (traditional medicine beverages, commonly consumed by people of Indonesia), there is also a baker by trade mark Sari Roti almost every passing moment, if in the afternoon there mie tek tek food vendors, and food vendors at night dumplings and satay time to trade between eight pm to 9 pm. Kost rMawar also, there are itinerant greengrocer, every day of the 6 am to 11 noon. Lots of cheap facilities around the boarding area Kost Mawar, although not as complete as the big city but enough to comfortably

Nb: AVAILABLE motorcycles, at close range, from boarding Kost Mawar to PTC Mall,, for only Rp 10,000 / one-way.


TOP TEN (10) RULES OF 'MAIN' KOST Mawar (please note)

1.NIGHT TIME KOST (HOME, AWAY IN-OUT) KOST MAWAR. APPLY TODAY UNTIL MONDAY-FRIDAY AT 22:00 PM (TEN NIGHTS), EXCEPT TO SATURDAY-SUNDAY AT 24:00 PM (NIGHT TWELVE). IF THERE IS GOING HOME, AWAY IN-OUT, THROUGH TIME (22:00 GMT; MONDAY-FRIDAY / 24:00 pm; SATURDAY-SUNDAY) KOST OWNER MUST TELL DIRECTLY TO THE OWNER FOR THE OUT KOST / & CAN GO THROUGH THE PHONE OR SMS TO NO HP KOST MAWAR FOR THE HOME / IN LATE

2.VISIT TIME DAYS UNTIL MONDAY-FRIDAY APPLY AT 22:00 PM (TEN NIGHTS), EXCEPT TO SATURDAY-SUNDAY AT 24:00 PM (NIGHT TWELVE).

3.PRIOR TO TELL (& GETS APPROVAL) KOST OWNER IF THERE FRIENDS / FAMILY ABOUT STAY. STAY TIME ONLY BEEN TWO (2) DAYS. THROUGH OF TWO (2) DAYS KOST DAILY RATES CHARGED OR UNDER THE OWNER OF NEGOTIABLE KOST, OFTEN STAY HOWEVER IF ONLY TWO DAY RATES REMAIN SUBJECT TO KOST

4.SPECIAL GIRLFRIEND /BOYFRIEND/ TTM, BROUGHT TO KOST EXPECTED IF ONLY TO THE EXTENT IN TERRACE KOST. EVEN IF IN THE ROOM, SO (ONE) DOOR / WINDOW TO OPEN (TO AVOID SLANDER).

5.USE ALLOWED TO PARTICIPATE STOVE & MAGIC JARE (rice cooker) OWNER KOST EVERY DAY / OFTEN, BUT MONTHLY charge Rp. 32000/MONTH FOR STOVE & Rp.50.000/ MONTH. FOR MAGIC JARE. TIME USE STOVE & MAGIC JARE APPLY TO 22.00 pm (TEN NIGHTS) & 17.OO PM (FIVE AFTERNOON).

6.ALL GOODS ARE DEEMED WORTHY OF ANY SMALL (MONEY, JEWELRY, CLOTHES IN, HP & Decorations, etc.). IS THE ABSOLUTE RESPONSIBILITY OF OWNER (CHILD KOST- boarding house owner is not responsible for, the children boarding the goods ).

7. GOODS ARE DEEMED WORTHY (O / CHILDREN KOST) THE BIG (LAPTOP, MOTORCYCLES, ORIGINAL GUCCI BAGS, CLOTHING DEPARTMENT / BRANDED,, etc), CAN ENTRUSTED TO KOST OWNERS IF LEFT IN THE KOST, KOST KNOW THAT OWNERS CAN PARTICIPATE & KEEP.

(Website hidden by Airbnb) DAMAGE KEY ROOM, FACILITY KOST (/ ARE STILL DEALING WITH FACILITIES KOST) THAT RESULT IN INJURY TO KOST ROSE (/ OWNER KOST & OTHER RESIDENTS KOST) RESIDENTS CAUSED BY NEGLIGENCE KOST, THEN MUST BE ACCOUNTED FOR BY KOST RESIDENTS CONCERNED & REPLACED THE LOSS ROSE TO KOST (/ OWNER KOST) (Website hidden by Airbnb) NB: IF OUT MORE ACTIVITIES KOST, KOST RESIDENTS SHOULD TURN LIGHT ROOMS, OTHER ELECTRONIC ITEMS INCLUDING STOVE AND RICE COOKERS & AIR ELECTRICAL OR GAS

9.RESIDENTS KOST MAWAR, IN EXPECTED OVER BEFORE COPY OF IDENTITY AS A SECURITY GENERAL TERMS. RESIDENTS KOST MAWAR. BANNED!; STEAL. DO IMMORAL ACTS (ABUSIVE) OF ANY KIND. CHANGING FACILITIES KOST. PETS ARE EXCESSIVE HURT KOST MAWAR. DRUNK. DRUGS & FIGHT (FIST FIGHTS) IN KOST MAWAR . RESIDENTS KNOW IF THERE KOST MAWAR ACTION IS PROHIBITED IN THE KOST, THEN WILL BE CHARGED ACTION EXPRESS. & IF THERE ARE RESIDENTS KOST MAWAR OF SUCH THINGS THAT DO NOT KNOW THE KOST, THE OWNER MUST TELL KOST

10.ALL RESIDENTS PARTICIPATE KOST EXPECTED TO MAINTAIN PARTICIPATION SECURITY & SAFETY OF KOST MAWAR.

GOOD LOVE, CALM, AT HOME, SAFE & COMFORTABLE IN ROSE KOST.


THANK YOU

KOST MAWAR ..
| | |
| --- | --- |
| | Недоступно: Пожарная сигнализация |
| | |
| --- | --- |
| | Недоступно: Детектор угарного газа |
Хозяин не указал, что в жилье есть детектор дыма или датчик угарного газа.
TOP TEN (10) ATURAN 'MAIN' KOST MAWAR


1. JAM MALAM ANAK KOST (PULANG, PERGI-KELUAR MASUK) KOST MAWAR. HARI SENIN-JUMAT BERLAKU SAMPAI PUKUL 22:00 WIB (SEPULUH MALAM), KECUALI SABTU-MINGGU SAMPAI PUKUL 24:00 WIB (DUA BELAS MALAM). KALAU ADA YANG PULANG, PERGI-KELUAR MASUK, LEWAT WAKTU (22:00 WIB; SENIN-JUMAT/ 24:00 WIB; SABTU-MINGGU) HARUS MEMBERI TAHU PEMILIK KOST SECARA LANGSUNG KEPADA PEMILIK KOST UNTUK YANG KELUAR/PERGI & BISA MELALUI TELEPON ATAU SMS KE NO HP KOST MAWAR BAGI YANG PULANG/MASUK TERLAMBAT

2. WAKTU BERTAMU HARI SENIN-JUMAT BERLAKU SAMPAI PUKUL 22:00 WIB (SEPULUH MALAM), KECUALI SABTU-MINGGU SAMPAI PUKUL 24:00 WIB (DUA BELAS MALAM).

3. HARUS SEBELUMNYA MEMBERI TAHU (& MENDAPAT PERSETUJUAN) PEMILIK KOST KALAU ADA TEMAN/KELUARGA YANG HENDAK MENGINAP. WAKTU MENGINAP HANYA DIBERI DUA (2) HARI. LEWAT DARI DUA (2) HARI DIKENAKAN TARIF KOST HARIAN ATAU BERDASARKAN HASIL NEGO DENGAN PEMILIK KOST, KALAU SERING MENGINAP WALAU HANYA DUA HARI TETAP DIKENAKAN TARIF KOST.

4. KHUSUS PACAR/TTM, JIKA DIBAWA KETEMPAT KOST DIHARAPKAN HANYA SEBATAS DI TERAS KOST. JIKAPUN DI KAMAR, MAKA (SALAH SATU) PINTU/JENDELA HARUS DIBUKA (UNTUK MENGHINDARI FITNAH).

5. BOLEH IKUT MEMAKAI KOMPOR & MAGIC JARE (PEMASAK NASI) PEMILIK KOST SETIAP HARI/SERING, TETAPI DIKENAI BIAYA BULANAN Rp. 32000/BULAN UNTUK KOMPOR & Rp.50.000/BULAN UNTUK MAGIC JARE. WAKTU PEMAKAIAN KOMPOR & MAGIC JARE BERLAKU SAMPAI JAM 22.00 WIB (SEPULUH MALAM) & 17.OO WIB (LIMA SORE).

6. SEMUA BARANG YANG DIANGGAP BERHARGA DALAM BENTUK KECIL (UANG, PERHIASAN, PAKAIAN DALAM, HP & PERNAK PERNIKNYA,,dst). MERUPAKAN TANGGUNG JAWAB MUTLAK PEMILIK BARANG (ANAK KOST).

7. BARANG YANG DIANGGAP BERHARGA (O/ ANAK KOST) YANG BERUKURAN BESAR (LAPTOP, MOTOR, TAS GUCCI ASLI, PAKAIAN DINAS/BERMEREK,,dsb), DAPAT DITITIPKAN KEPADA PEMILIK KOST APABILA DITINGGALKAN DI KOST, AGAR PEMILIK KOST TAHU & DAPAT IKUT MENJAGA.

8. KEHILANGAN/KERUSAKAN KUNCI KAMAR, FASILITAS KOST (/YANG MASIH BERHUBUNGAN DENGAN FASILITAS KOST) YANG MENYEBABKAN KERUGIAN BAGI KOST MAWAR (/PEMILIK KOST & ANAK KOST LAINYA) YANG DISEBABKAN OLEH KELALAIAN ANAK KOST, MAKA WAJIB DIPERTANGGUNGJAWABKAN OLEH ANAK KOST YANG BERSANGKUTAN & DIGANTI RUGI KEPADA KOST MAWAR (/PEMILIK KOST).

NB: KALAU LAGI AKTIVITAS KELUAR KOST MAWAR, ANAK KOST MAWAR DIHARAPKAN MEMATIKANLAMPU KAMAR, BARANG ELEKTRONIK LAINNYA TERMASUK KOMPOR DAN PEMASAK NASI & AIR LISTRIK ATAU GAS

9. ANAK KOST MAWAR. DILARANG!; MENCURI. MELAKUKAN TINDAKAN ASUSILA (MELECEHKAN) DALAM BENTUK APAPUN. MERUSAK FASILITAS/YANG BERHUBUBUNGAN DENGAN FASILITAS KOST MAWAR. MENYAKITI SECARA BERLEBIHAN HEWAN PELIHARAAN KOST MAWAR. MABUK-MABUKAN. NARKOBA & BERKELAHI (ADU JOTOS) DI KOST MAWAR. JIKA DIKETAHUI ADA ANAK KOST MAWAR MELAKUKAN TINDAKAN YANG DILARANG TERSEBUT DI KOST MAWAR, MAKA AKAN DIKENAI TINDAKAN TEGAS. & JIKA ADA ANAK KOST MAWAR YANG MENGETAHUI TERJADINYA HAL YANG DILARANG TERSEBUT DI KOST MAWAR, MAKA WAJIB MEMBERI TAHU PEMILIK KOST MAWAR.

10. SETIAP ANAK KOST DIHARAPKAN PARTISIPASINYA UNTUK IKUT MENJAGA KEAMANAN & KENYAMANAN KOST MAWAR.

SEMOGA SENANG,TENANG, BETAH, AMAN& NYAMAN DI KOST MAWAR.

TERIMA KASIH

KOST MAWAR..
Общайтесь только через Airbnb
В целях безопасности никогда не переводите деньги и не общайтесь за пределами сайта или приложения Airbnb.
Чем заняться рядом с этим жильем
Открывайте новые возможности в г. Palembang и поблизости
Другие варианты жилья в г. Palembang: