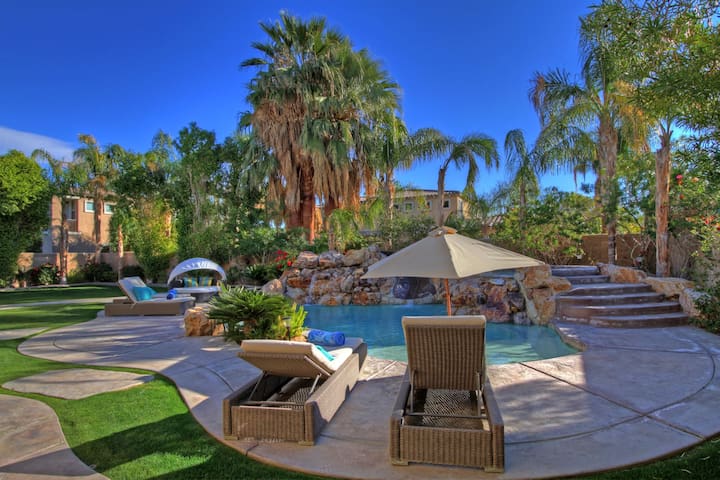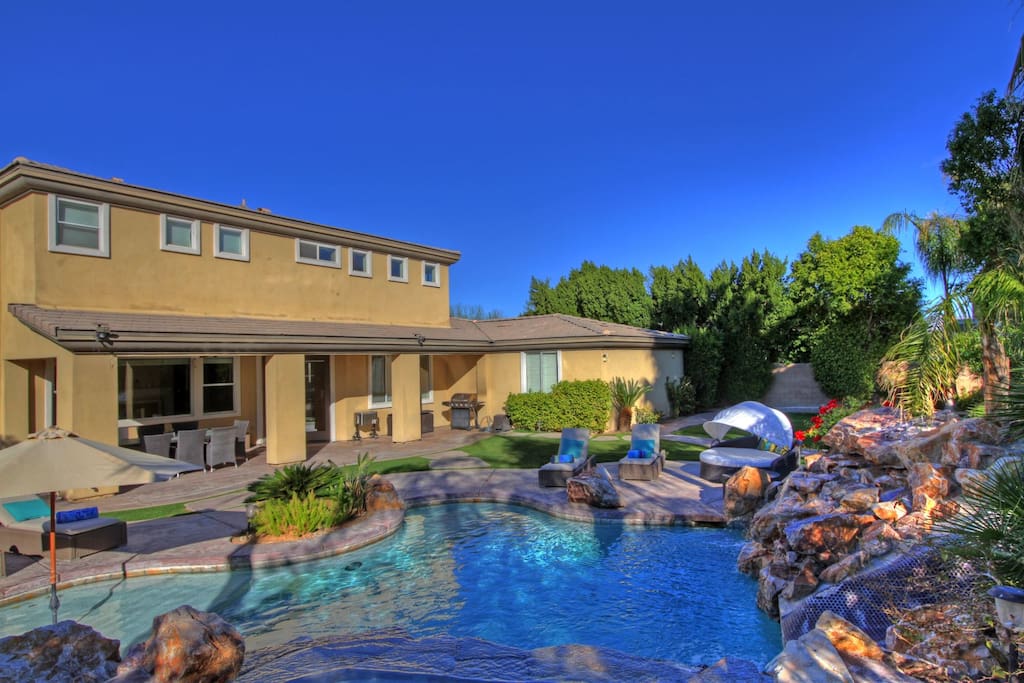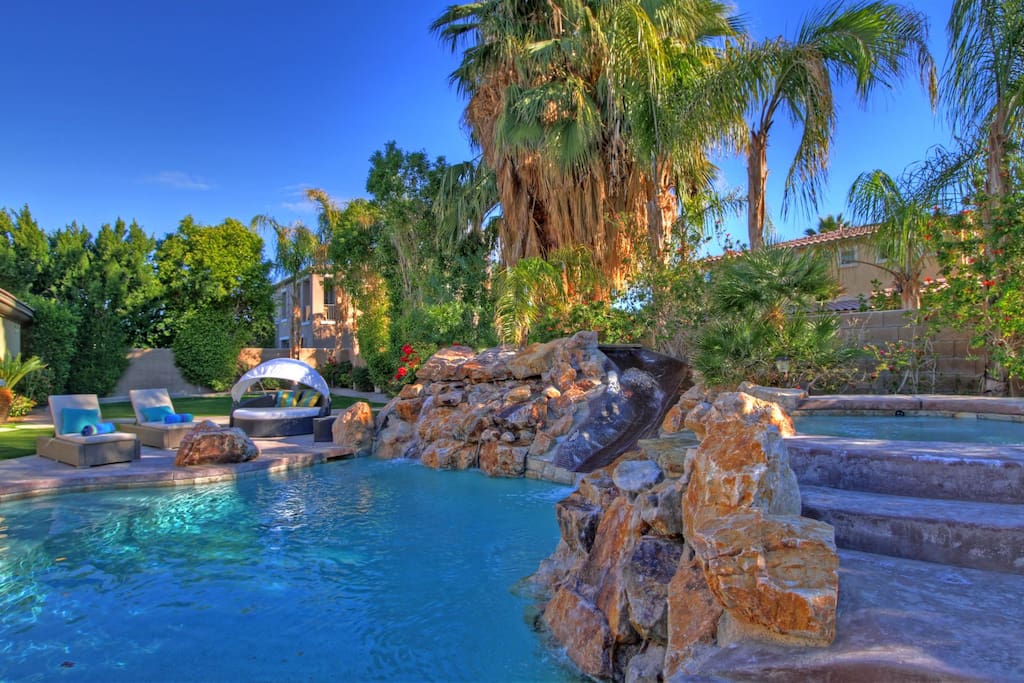 Monte Carlo-1/2 ml Walk to Coachella & Stagecoach
Have you been searching for a spacious and upscale getaway with resort style amenities vacation home? Well you can stop looking! This is the vacation home for your family and friends to make some memories. The classy furnished interior, and fabulous outdoor amenities that are sure to create days full of endless fun! This 5 bedroom, 4.5 bath home comfortably sleeps 14 people and is ready for your arrival with high quality bed linens and towels, a fully equipped and double island kitchen.
---
Это жилье оснащено всем необходимым в деловой поездке.
---
Спальня 1
1 кровать King Size
Спальня 2
1 кровать King Size
Спальня 3
2 односпальные кровати
Спальня 4
1 кровать Queen Size
Спальня 5
1 кровать King Size
Зоны общего пользования
1 надувной матрас
---
---
Доплата за каждого последующего гостя Бесплатно
Залог за сохранность имущества 89806 р
Общайтесь только через Airbnb
В целях безопасности никогда не переводите деньги и не общайтесь за пределами сайта или приложения Airbnb.
Подробнее
---
Once you complete the Airbnb process (selecting dates of stay, payment, etc.), you will need to complete (sent to you by email - please send us your email address through "Airbnb messaging") and electronically fill out and sign a Guest Rental Agreement. The agreement will include the property information (address, occupancy limits, etc.), reservation information (dates of stay, # of guests, etc.) and guest information (Airbnb account holder name and contact information) in addition to the following information listed below.
Although you have paid Airbnb, we do require a credit card to be listed on the agreement. PSVH will not charge any amount to the card, it is simply required if there is any incidental charges (late check-outs, massages, flowers, kitchen stocking, etc.) that you may select after the reservation has been paid for.
Please not that we do require ALL guests to be 25 YEARS OLD OR ABOVE. Guests that are under 25 years old must be accompanied by a legal parent or guardian. It is a requirement to include each guests name and age on the agreement. Failure to do so, will result in the reservation not being confirmed.
Once the agreement has been electronically submitted back to PSVH, your reservation is guaranteed and that will initiate additional information for your reservation to be sent to you and your guests.

GUEST RENTAL AGREEMENT
As the owner of an Airbnb account that initiated a reservation at a Palm Springs Vacation Homes rental property, I agree to complete, sign and follow the Responsibilities, Terms and Conditions:
Registered Guest Full Name (Licensee):
Reservation ID # 
Arrival Date: 
Departure Date:    

VACATION PROPERTY DETAILS
House Reserved:
House Address:

PAYMENT INFORMATION
Card Holder Name: 
Billing Address: 
City(URL HIDDEN)State:
Zip:
Phone Number: 
Email Address: 
Card Holder Driver's License Number
Exp.(URL HIDDEN)State: 
 
Credit Card Type: (Please initial the card type that you will be submitting)(URL HIDDEN)VISA(URL HIDDEN)MASTER CARD(URL HIDDEN)DISCOVER(URL HIDDEN)AMEX
 
Card Number:
Expiration Date:
Security Code:
  
By signing below, I the Card Holder agree to the Cancelation Policy and all Rental Terms & Conditions herewith and authorize Palm Springs Vacation Homes LLC. to charge my credit card in total amounts due detailed in this agreement, and/or the third party booking website used to secure this reservation.
 Card Holder's Signature:
Copy of Identification: I understand and agree to provide a copy of valid U.S. government issued identification (e.g. Driver's License or State ID) prior to check-in. This can be scanned/emailed to Palm Springs Vacation Homes LLC. at any point prior to check-in.  Email: (EMAIL HIDDEN) RE: Reservation #
 
LICENSEE CANCELLATION POLICY: A minimum of 'thirty days' notice (60 days for special events and holidays) prior to the scheduled arrival date is required for a full refund of the amount paid, less a processing fee of 15% of the total booking, and any applicable City Taxes and Processing Fee. If Licensee cancels the reservation less than thirty days before the Check-in date, PSVH will make every attempt to book another reservation for the same time period. If the Property is re-booked at the same rate or greater, Licensee will receive a full refund of the amount paid, less a processing fee of 15% of the total booking, and any applicable City Taxes and Processing Fee. If the Property cannot be rebooked with a replacement reservation for the same time period, PSVH shall be entitled to retain the booking total to cover any expense, loss or damage that PSVH may suffer because of Licensees default hereunder. PSVH strongly encourages the purchase the available Travel Insurance along with reservations. 
 
LICENSEE HEREBY CONFIRMS THAT HE/SHE UNDERSTANDS THAT CANCELING THE RESERVATION LESS THAN 30 DAYS PRIOR TO THE CHECK-IN DATE WILL NOT RESULT IN A RETURN OF THE BOOKING TOTAL OWED TO PSVH.
Registered Guest Signature:
Card Holder's Signature:

SECURITY PROCEDURES
We are very concerned with the security of your personally identifiable information and try to provide secure transmission of your information from your PC or Mobile Device to our servers. For certain transactions on certain pages of our website, we may use Secured Sockets Layer (SSL) technology to secure the transfer of information. Unfortunately, no data transmission over the Internet can be guaranteed to be absolutely secure. As a result, while we strive to protect your personal information, we cannot guarantee the security of any information transmitted over the Internet. Once we receive your information, we take steps that we believe are reasonably appropriate to protect its security, both internally and from outsiders, from loss, misuse, unauthorized access, disclosure, alteration and destruction, and to ensure the integrity of the data we collect. We use a combination of technological, physical, administrative and policy methods as well as organizational controls and non-disclosure or confidentiality agreements as we deem appropriate to protect this data.
If you have a user name and password for any of the features on our website, you have the responsibility of keeping your password secret. You should not reveal your password to anyone. We will not ask you in an unsolicited telephone call or email for your password. In addition, you should take reasonable precautions when using a computer that is not your own or in a public setting.
Registered Guest Initials:
 
PRIVACY POLICY
Palm Springs Vacation Homes uses information collected about you as explained in this Privacy Policy. Our website may contain links to third parties' websites. We're not responsible for the privacy practices or the content of those websites. Our website may also contain links to terms and conditions and privacy policies of third party providers who provide tools or services. Therefore, please read carefully any privacy policies on those links or websites before either agreeing to their terms or using those tools, services or websites. By providing information to us when listing a property, searching for a property, using any tool or service on our website or otherwise using our website, you expressly agree to this Privacy Policy. We may occasionally amend this Privacy Policy to reflect regulatory requirements, advances in technology, website updates and changes in our information collection and disclosure practices. Any new policy will automatically be effective when it is published on the website. You should therefore return here regularly to view our most up to date Privacy Policy. You should also print a copy for your records.
 
Who processes your personal data, and where?  Your personal data (also referred to as personal information) - that is, data that identifies you, or from which you are identifiable - will be collected, processed, stored and used by us, and passed to and processed by companies and other data processors acting under our instructions. We do not knowingly collect or process data from anyone under the age of eighteen (18) years old.
Our website may also use (SENSITIVE CONTENTS HIDDEN) Analytics to gather statistics on site usage.  This may involve the use of cookies.  There are more details in (SENSITIVE CONTENTS HIDDEN)'s own privacy policy.  (SENSITIVE CONTENTS HIDDEN) may aggregate data they collect from their various services including (SENSITIVE CONTENTS HIDDEN) Analytics, (SENSITIVE CONTENTS HIDDEN) Translate, (SENSITIVE CONTENTS HIDDEN) Maps and YouTube.  You acknowledge and accept that Palm Springs Vacation Homes have no control over (SENSITIVE CONTENTS HIDDEN)'s data collection.  We strongly advise you to look at (SENSITIVE CONTENTS HIDDEN)'s privacy policy for details of their data collection practices, or you may want to opt out from (SENSITIVE CONTENTS HIDDEN) Analytics please check here (URL HIDDEN)
 
The information we gather:  At various times you may give your personal data to us. For example, in order to send a request or inquiry from you to a property owner or manager, we may need to know all or some of the following: your full name, address, telephone number, e-mail address, your current location, and, a method of payment. We may also gather information from cookies or web beacons.  We also collect IP addresses, mobile device identifier details, your location, navigation and click-stream data, the time of accessing the website, homes you viewed, what you searched for, the duration of your visit, and other details of your activity on our website. If you ask us to connect with other sites (for example if you ask us to connect with your (SENSITIVE CONTENTS HIDDEN) account) we may get information that way too.  In connection with electronic communications we facilitate through our website, we use electronic or manual checks to monitor such communications for trust and security purposes.  We obtain data from you either by you inputting your personal details, by the automatic collection of information about you as you use the Site, when we speak to you, or from third parties.  Third party information may include financial information which we use to prevent and detect fraud, information from your mobile provider if you are accessing our website over a mobile device or information from a third party such as a social media or travel opinions site where you have asked us to share your data with them.  
 
How we use your personal data:  Our primary purpose in collecting your personal data is to provide you with the services you request and those which we believe will optimize your use of our website.  You agree that we may use your personal data for the following purposes:

For the services or to support your request;
To contact you from time to time with user or service updates;
To send other messages that help us provide our services on our website;
To assist people, you have done (or have agreed to do) business with.  For example, if you are an owner and a traveler who has booked or inquired with you needs your details we may pass them on; if you are a traveler and an owner you have booked with needs to contact you we may give them your details;
To customize, measure, report on and improve our services, content and advertising;
To promote services related to our website;
To compare information for accuracy, and verify it with third parties;
To prevent, investigate or prosecute activity we think may be potentially illegal, unlawful or harmful and
To enforce our Privacy Policy and/or our Terms or any other purpose referenced herein or therein.

We collate statistics about site traffic, sales and other commercial information which we pass onto third parties to assist us in improving the services we provide to you. We also use demographic information to tailor our website and we share that information with third parties so that they can build up a better picture of our customer base and general consumer trends.
 
How We May Disclose Your Personal Data: We may disclose your personal data to enforce our policies, or where we are permitted to do so by applicable law, such as in response to a request by a law enforcement or governmental authority, or in connection with actual or proposed litigation, or to protect our property, people and other rights or interests.
 
We may also share your personal data with:
 
One of our partners if you've requested their services or if you've requested to be provided with information by them;
Another member if you have done business with them;
A third party performing services on our behalf;
Other companies or business entities, for example if we are thinking of a merger with or sale to that company or business entity;
Other companies we work with to feature all or part of our member's property listings or otherwise provide promotional services;
Any third party you have asked us to share your personal data with – such as (SENSITIVE CONTENTS HIDDEN) if you have asked us to connect with your (SENSITIVE CONTENTS HIDDEN) account; or
Any legal or governmental entity pursuant to a subpoena or other legal request.
You may have accessed our website through a hyperlink from the website of one of our trading partners. 
If so, you consent to your personal details and purchase information, including behavioral patterns, being shared with that trading partner in accordance with our contractual relationship with them.
 
In the unlikely event that Palm Springs Vacation Homes is sold, or some of its assets transferred to a third party, your personal information, as a valuable asset, may also be transferred.  Potential purchasers and their advisors may have access to data as part of the sale process. However, use of your personal information will remain subject to this Privacy Policy. Similarly, your personal information may be passed on to a successor in interest in the unlikely event of a liquidation, bankruptcy, or administration. Our customer database could be sold separately from the rest of the business, in whole or in a number of parts.  It could be that the purchaser's business is different from ours, too.
Registered Guest Initials:

MAXIMUM NUMBER OF OCCUPANTS: The Property is to be occupied by no more than the maximum sleep number as stated on (URL HIDDEN) unless approved in writing by PSVH. If Licensee exceeds the occupancy limit and falsifies occupancy information at the time of reservation, Licensee shall be subject to eviction. "Occupants" includes small children, infants and overnight visitors. If more than the maximum number is found to be occupying the Property, you agree that a minimum charge of $100.00 per person/per day will be made to your credit card. Additionally, this Agreement may be immediately terminated without a refund of any amounts paid.

MAXIMUM OCCUPANCY OF (see property listing) PEOPLE ARE ALLOWED OVERNIGHT AT (booked property) Occupancy is enforced and will result in additional fines and/or removal and forfeit of security deposits. Please list all members of your party in the table below. All persons listed will be bound by the terms of this agreement. Only persons listed on this agreement may occupy the property at any time.
Registered Guest Signature:
Card Holder's Signature:

RESERVATION GUEST LIST: All persons listed on the Rental Agreement or added subsequently by The Licensee will be bound by the terms of this agreement. Occupancy of the property is restricted to those names listed on the Agreement or added subsequently by The Licensee.   The Rental Applicant is considered to be the Lead Licensee and will assume full responsibility for all members of the Rental Group throughout the rental period.   Information or instructions relating to this rental will be communicated to the Lead Licensee only and not to any third-party member of the Rental Group. 
Registered Guest Initials:
# GUEST NAM(URL HIDDEN) AG(URL HIDDEN) EMAIL
(PHONE NUMBER HIDDEN).
CHILDREN UNDER THE AGE OF 12 YEARS OLD
1.
2.

I, the Registered Guest (Licensee), agree to the following:
LODGING AGREEMENT: Licensee (or you) hereby agrees to a short-term rental from Palm Springs Vacation Homes LLC. ("PSVH") the Property (Booked Property), located at (Property Address) in Riverside County, CA, for use solely as a private vacation residence and for no other purpose. Licensee acknowledges and agrees that his/her occupancy is as a lodger of the Property and not as a tenant under landlord/tenant law, and that California Civil Code Sections 1940 et seq (including, but not limited to California Civil Code 1950.5) shall not be applicable to Licensee since Licensees occupancy is transient and subject to tax under Section 7280 of the Revenue and Taxation Code. This Agreement is subject to termination by PSVH without recourse to eviction proceedings under California Code of Civil Procedure 1161 or any other formal or informal proceedings. This Licensee has no interest in the realty, and the Property shall at all times remain under the direct control and supervision of PSVH.
This agreement is a binding legal contract and must be construed as if both parties jointly wrote it, governed by California law. You as licensee are responsible for payment, deposits and all facets and terms as detailed in this rental agreement. Your signature on this Agreement, or payment of money or taking possession of the property after receipt of the Agreement, is evidence of your acceptance of the Agreement and your intent to use this property for a vacation rental. Except as they may be supplemented by additional PSVH policies, guidelines, standards, or terms for a specific product, feature, service or offering, the Agreement constitutes the entire agreement between the parties with respect to the subject matter hereof. 
The rented Property is a privately-owned property. You agree to indemnify Palm Springs Vacation Homes LLC., staff, shareholders, and the Lessor/owner of said property for all liability, damage, personal injury, or loss to the Property or its contents that occur during your stay resulting from any cause, including but not limited to negligence, violation of any law, carelessness, neglect, theft or improper conduct of any persons entering, occupying or visiting the leased premises. PSVH is not responsible for personal items lost, stolen or left behind. A $25 FEE PLUS THE COST OF SHIPPING WILL BE DUE TO RETURN ANY ITEMS LEFT BEHIND.  Occupant's or Licensees' personal property, including vehicles, are not insured by Owner, HOA or Owner's agent against loss or damage due to theft, fire, vandalism, rain, water, criminal or negligent acts of others or any other cause. 
Registered Guest Signature:

PAYMENT POLICY: Licensee is responsible for full payment of the Total Occupancy Rate for the entire license period.   In the event of a reservation not being accepted/confirmed by PSVH, all fees paid will be refunded immediately. No reservation may commence without a signed Rental Agreement and full payment being cleared. Once a reservation is received and accepted by PSVH, The Licensee is liable for 100% of the TOTAL of the rental fee. Non-payment by the check-in date will be treated as a cancellation and the deposit will be forfeited.
Registered Guest Initials:
Card Holder's Signature:

BOOKING POLICY: Occupancy rates naturally fluctuate throughout the year based on market conditions. When reservation confirmation is received, occupancy rates are locked in for the dates in the reservation. Should occupancy rates go up, you understand you will not be required to pay more. In addition, should occupancy rates go down, you understand you will not be entitled to a refund.
Registered Guest Initials:

RESERVATION CONFIRMATION: Reservation of the Property is not confirmed until (i) the Lodging Agreement has been executed by Licensee, and an electronic signed copy is submitted to PSVH, (ii) the 100% Booking Deposit is received by PSVH, and (iii) PSVH accepts the reservation, which acceptance shall be in PSVH's sole and absolute discretion.
Registered Guest Initials:
Card Holder's Signature:

PROPERTY TOURS: A tour of the Property may be available upon request, but is subject to availability. If licensee or proxy of licensee tours the Property after the reservation is confirmed, licensee is subject to the terms and conditions of the cancellation policy including any and all cancellation fees.
Registered Guest Initials:

MAKING PAYMENTS: Failure to make payments when due will result in cancellation of this Agreement.
Registered Guest Initials:
Card Holder's Signature:

MINIMUM AGE TO RENT/STAY: Licensee and ALL guests must be at least 25 YEARS OF AGE to enter into this Agreement and reserve this Property. PSVH requires proof of age, prior to check-in. Guests under the age of 25 YEARS OF AGE must be accompanied by a legal parent or guardian. NO EXCEPTIONS!
Registered Guest Initials:

ACCEPTANCE OF PROPERTY: Licensee agrees to accept the Property upon arrival, provided it meets the basic description as listed on the MYPSVH and/or the Airbnb web site
Registered Guest Initials:

CHECK-IN & KEYS/CODES: Check-in for Licensees is 3:00 p.m. In the event that extensive cleaning and/or repairs are required after the previous guest, check-in may be delayed until after 3:00 p.m. There will be no refund for delayed check-in due to extensive cleaning and/or repairs. Licensee is not permitted on the property prior to check-in. For non-return or loss of keys, gate cards, and remotes a $150.00 service fee applies. 
Registered Guest Initials:
Card Holder's Signature:

REPORTING DAMAGE TO PSVH: Licensee agrees to keep the Property in good condition, and upon Licensees departure, the Property will be left in good and habitable condition. Any damage to furnishings, fixtures, or furniture or other notable conditions found upon arrival will be reported to the Owner/Managers within two (2) hours of Occupancy.
Registered Guest Initials:

DAMAGE POLICY: Licensee shall be responsible for all damage, breakage and/or loss to the Property, except for normal wear and tear and unavoidable casualties (as deemed by PSVH in its sole discretion) which may result from Licensees occupancy. Licensee agrees that all pipes, wires, glass, plumbing, household contents, and other equipment and fixtures will be in the same condition upon departure as at the time of check-in, reasonable wear and tear and damage by unavoidable fire and casualty are the only exceptions. Licensee understands that the Property will be inspected prior to Licensees arrival and upon Licensees departure. Licensee acknowledge any loss and/or damage to the Property will result in a charge or charges for repair and/or replacement value.
LICENSEE HEREBY CONFIRMS THAT HE/SHE UNDERSTANDS THESE CHARGES MAY BE POSTED TO THE CREDIT CARD ON FILE, OR, IF PSVH IS UNABLE TO CHARGE THE CREDIT CARD, HE/SHE WILL PROMPTLY (AND IN NO EVENT MORE THAN 10 DAYS) SUBMIT THE MONEYS DUE FOR FULL COST OF THE REPLACEMENT OR REPAIR.
Registered Guest Signature:
Card Holder's Signature:

SECURITY DEPOSIT: Paying a security deposit does not relieve the Licensee(s) in any way from requirements stated in the rental agreement. Any damages, fines, or additional charges will be charged against the security deposit, and charges exceeding the security deposit will be charged to the Licensee's credit card on file. Licensee will be notified of any charges that apply.
As a part of your stay, you are required to provide a Security Deposit of $1,500. The Security Deposit is designed to cover damages to the rental unit interior that occur during your stay. The Security Deposit does not cover Excess Damage Costs more than $1,500 in damage, theft, unauthorized entry into the owner's supply closet, unauthorized pets, extensive cleaning required at check-out, smoking inside the home, exceeding occupancy limits, noise violations and any other violations of the Palm Springs Vacation Homes LLC. rental policies as specified in your rental agreement, nor any fines imposed by the City, Police Department or Home Owner Association as the result of violation of any law, ordinance, rule or regulation or any fines or cost levied against Licensee or visitors of Licensee). The fee does not cover late Check- out fees (departing after 11:00 a.m. on Departure Day) nor early Check-in fees (arriving before 3:00 p.m. on Arrival Day).  PSVH requires a valid Credit Card number on file and any incidental charges that result from Excess Damage or any missing item, costs will be charged immediately to the Licensee's credit card. Licensee will be notified of any Excess Damage Costs in writing.  
By signing below, the licensee assumes full responsibility for any items found to be missing and any damage due to misuse, negligence or action on Licensee's or Licensee's visitors part, except in the case of normal wear and tear reported to the Property Manager at ((PHONE NUMBER HIDDEN) or (EMAIL HIDDEN) within 24 hours of Check-In
Registered Guest Signature:
Card Holder's Signature:


GOOD NEIGHBOR POLICIES: Licensee, on behalf of all guests, agrees to honor the specified occupancy limits for this property and exhibit conduct in a manner respectful of neighbors by refraining from loud outdoor noises, disruptive parties, over-occupancy or any activity that interferes with the quiet enjoyment of neighbors, traffic flow, the community, and residents. Licensee and guests will maintain the property in good order and appearance at all times and will not disturb, annoy, endanger or inconvenience neighbors or prompt written or verbal complaints to Palm Springs Vacation Homes LLC. from police, neighbors, neighborhood associations or homeowner associations (HOA). Licensees under the age of 25 must be accompanied by their own parent/ guardian.
Violation of these terms will result in city police fines, automatic cancellation of lease plus a minimum charge of $500.00 incidental charge to Licensees credit card or forfeiture of security deposit. Outdoor amplified music from any device at any time is PROHIBITED (in The City of Palm Springs) and no music can be audible from the property line. This includes playing music inside and opening the windows and/or doors. If rented property is governed by a HOA, Licensee agrees to abide by all HOA Association rules and regulations. This property is located in a quiet residential neighborhood and we strictly enforce all applicable city ordinances that relate to occupancy, noise and parking.  

Licensee may not plug electric vehicles or RV's into property without prior written consent of homeowner. Palm Springs Vacation Homes LLC. (agent) does not warranty or guarantee and is not liable for failures of, including, but not limited to any of the property's equipment, systems, appliances, pool/spa equipment, as malfunctions or repair items cannot always be foreseen.
If any PSVH team member, local authority, security company and/or any individual with authority over the Property has to physically go to the Property because of a complaint (received in person, over the phone, electronically) a minimum fee of $1,000.00 will be charged to the credit card on file or deducted from the security deposit.
Registered Guest Signature:
Card Holder's Signature:

NOTICE - POOL SAFETY RULES - ASSUMPTION OF RISK - RELEASE OF LIABILITY & INDEMNIFICATION: You are responsible for pool safety for you and your children and your Licensees/guests. Licensee acknowledges that the safety of yourself, your Licensees, children or pets depends on you. The pool is not fenced or gated. Your attentive personal supervision is absolutely required to avoid risk of serious injury and/or death. Pools and spas are serious safety risks & hazards - including injury or death - if not used with attentive care & caution. By signing this contract, you are aware of and assume the risk for yourself, your party and for any Licensees or invitees during your lease. PSVH are not responsible for accidents. You agree to indemnify and hold harmless from any and all liability (active or passive) Palm Springs Vacation Homes LLC., its owners, management or employees, the lessor and/or property owners, from any harm or injury caused by using the pool and/or spa and equipment - or the Property leased by this contract. You hereby agree/accept that pools and spas contain necessary chemicals that can cause skin rashes, harm or discoloration of swimwear. You and your Licensees and invitees agree that you use pools and spas completely at your own risk.   
 
NO lifeguard is on duty at any time. NO diving. NO running. By signing this lease and liability release, you agree to honor all important pool safety guidelines: 
1.       Child Safety. Never leave a child unsupervised near a pool, not even for a minute. During social gatherings at or near the pool, appoint a designated adult to protect young children from pool accidents. Children must be watched closely while swimming. Do not use flotation devices as a substitute for supervision. Toys and floats can entice young children into the pool area. When not in use, clear the pool area of toys. 
2.       NO Glassware. Do not use glassware in or near the pool or spa. Broken glass in pool area may result in additional charges up to $(PHONE NUMBER HIDDEN).       Pool/Spa Safety. Note that consuming alcoholic beverages and/or drugs and use of the spa can be dangerous and cause serious health risks. Avoid immersion in the spa for prolonged periods of time. 
4.       NO Diving: Diving into shallow water can cause serious injury, paralysis or death. 
Registered Guest Full Name(URL HIDDEN)Registered Guest Signature:

POOL/SPA - POOL SERVICE - POOL HEATING: California energy costs are among the highest in the US. A surcharge of pool/spa heating usage applies for daily or weekly use; monthly rentals pay actual electric + gas usage. Pool/spa heating must be ordered in advance as the average pool takes up to 48 hours to heat up to 80+ degrees. Pools/spas are cleaned on a weekly schedule (by homeowner vendor) during your visit. You agree that if pool heating is adjusted upward by you or your Licensees, an excessive pool heat additional fee of up to $99 per night will be charged to your account. A daily utility is charged to every reservation and not included in the "rent" charge. 
 
PSVH will do everything in our power to make sure that the private pool and/or spa at the rental property are functioning properly for your stay. If circumstances beyond our control cause the private pool and/or spa to not function properly, you may be entitled to a refund of daily pool/utility fee for as many full days as the pool and/or spa were not functioning, provided however, you must report the malfunction to PSVH immediately and PSVH must be given the opportunity to verify the situation. As used herein, pool and/or spa malfunction shall mean a breakage of the heater or pump.
Registered Guest Initials:

Card Holder's Signature:
EVENTS/VENDORS: Any vendors entering the Property or events held at the Property must be disclosed by Licensee to PSVH and are subject to vendor/event fees to be determined by PSVH. Failure of Licensee to notify PSVH of any vendors or events could result in additional charges as determined by PSVH and/or eviction. PSVH retains the right to determine if a gathering constitutes an event. All vendors must be licensed and insured and will provide proof of insurance if requested by PSVH.
Registered Guest Initials:
Card Holder's Signature:

COMMERCIAL PHOTOGRAPHY: Commercial photography NOT permitted without prior expressed written consent of owner or agency. Special insurance is required to be purchased by Licensee for photography and film shoots including Palm Springs Vacation Homes LLC. and homeowner as additional insured. 
Registered Guest Initials:

SUBLETTING: This Agreement may not be assigned or the Property sublet or occupied by anyone other than Licensee and its Licensees. Licensee may not let, sublet or assign this lease for all or any part of the premises.
Registered Guest Initials:

CHANGING THE LOCKS: No physical changes to the Property or changing of locks on the Property are permitted.
Registered Guest Initials:

NO SMOKING: All of PSVH vacation homes are non-smoking properties. You are permitted to smoke outdoors on the patio or courtyard, while maintaining at least a 15-foot distance from all doors and windows. Butts are to be disposed of properly and NOT LEFT ANYWHERE on the property. Any violation of the smoking policy will incur a $1,000.00 Additional "Smoke Damage" Cleaning Fee to remove smoke odors from the house and/or linens and butts from the grounds, smoking related refuse, and any broken and/or misaligned window screens. 
Registered Guest Initials:
Card Holder's Signature:

PETS: Some properties are pet-friendly, while others are not.  PSVH accepts no responsibility for any allergic reaction or other conditions arising from occupancy of the property. The designation of "No Pets" does not indicate there have not been pets at the property at some time.
Pet-Friendly Properties – Select properties allow up to two well-trained dogs (both under 45 lbs.) – advance notice required. $200 non-refundable pet fee applies. Cats and other pets are not allowed in any of our rental properties. Licensee assumes full responsibility for dog, dog safety, the safety of others, vendors, invitees and dog itself. If a pet is brought without permission, or to a non-pet-friendly property, a charge of up to $1,500.00 may be charged to the credit card or security deposit is forfeited.  All evidence of pet occupation must be removed from the Property and grounds at the end of the rental period. Pets are not permitted on any item of furniture, including beds, and evidence of pet hair on furniture and bedding may incur additional cleaning charges. Failure to remove evidence of any pet occupying the house, will result in a $500.00 charge to the credit card on file and/or deducted from the security deposit.
Non-Pet Friendly Properties – there are to be no pets permitted on the Property - except with prior authorization and payment of the appropriate pet fee. Licensees who bring a pet or pets without approval will be charged the per pet fee and may be immediately evicted from the Property.
Registered Guest Initials:
Card Holder's Signature:

ILLEGAL SUBSTANCES: Illegal substances are strictly prohibited and grounds for immediate eviction from the Property. You, your Licensees and visitors, agree that any illegal drug use on the Property, or using the Property for any immoral or unlawful purpose, or violation of any law or ordinance on or about the Property will immediately terminate your occupancy, be grounds for immediate eviction from the Property and the local authorities will be contacted. You shall be liable for any and all costs incurred by PSVH as a result of the breach of this clause.
Registered Guest Initials:

Card Holder's Signature:
MOVING FURNITURE: The Owner shall provide furniture and fixtures, linens and towels, and a fully equipped kitchen. Licensee is responsible to return any furniture that was moved to its original position.  In houses with pool tables, moving the pool table is prohibited. If any furniture and/or pool table is moved without consent from PSVH (agent) the credit card holder will be charged a minimum fee of $500.00.
Registered Guest Initials:
Card Holder's Signature:

NO REFUNDS NO CREDITS: We want your visit to be enjoyable, comfortable and pleasant. It is understood that in renting a private vacation property, there are many situations that are by nature beyond the control of PSVH, and credits or discounts will not be granted for such. Examples that are not guaranteed nor warranted and will not warrant any refund or credit of rental monies, include, but are not limited to: failure of systems, Air conditioners, thermostats or heat, pool-spa equipment/heater, appliances, electronics, or cable television not working, the property's systems or mechanical malfunctions, plumbing, Internet, construction taking place in the area, a property not decorated or accommodated to your tastes/expectations, bad weather, condition of landscaping, a neighborhood disturbance/noise. In the rare event of a mechanical malfunction or inconvenience, we will do our best to resolve quickly. Repairs, if any, will be accomplished as soon as possible, taking into consideration service personnel workload, parts availability, and nature of repair. However, it is understood that no refund or credits will be granted for any early departures or system malfunctions. Expenses for unnecessary service calls are the responsibility of the Licensee. 
Registered Guest Initials:
Card Holder's Signature:

CLEANING: A non-refundable departure cleaning fee is required on all rentals. We ask that Licensees treat the property with care, leaving the Property in the same general condition as found upon arrival. Within the 1st hour of arrival, if you are not satisfied with cleaning, please contact our office so that we can attend to your specific requests. No cleaning fees are refunded. Each Property is inspected after Licensee departure. Additional charges will apply for stains on carpet or furnishings, bedding, excessively dirty ovens or stove-tops, BBQ grills, dirty dishes, excessive trash & moved furniture or appliances. These are not normal wear and are not covered as part of the cleaning fee. Items requiring extra cleaning at departure will be charged to Card Holder. 
Registered Guest Initials:
Card Holder's Signature:

CHECK-OUT: is promptly at 11:00 a.m. on the day of departure unless specific arrangements are made in advance. The entire 4-hour window between your check-out and the next check-in is needed to adequately clean and prepare the property for the next Licensee. Out of respect for our housekeeping staff and newly arriving Licensees we ask that you adhere to our arrival/departure times. If you fail to be completely out by 11 am without prior approval, you will be charged a minimum of $250. Special arrangements must be made ahead of time to be sure that a longer stay will not pose a problem. Please understand this is not meant to be an inconvenience but to ensure that everyone has the same opportunity to enjoy their stay at this Property.
There shall be no proration of the Total Occupancy Rate for late arrivals or early departures. Unauthorized late departures may be charged an additional night. Please close and lock all doors, sliders, windows, a minimum of $250 fee will be charged for leaving the property unsecured. Please turn off lights, heat or AC. Before departing, please bag trash and place it in containers provided. All dishes and cookware should be cleaned and put away, or placed in dishwasher. Carpets- floors should be in same clean condition as you found them to prevent additional charges. 
Registered Guest Initials:
Card Holder's Signature:

ENTERING PREMISES: In the event of an emergency, Owner, Owner's Agent or PSVH employee's may enter the Property at any time, without prior notice.  For non-emergencies, Owner, Owner's Agent or PSVH employee's may enter the Property for normal maintenance, in order to perform necessary repairs and/or maintenance.  For any other reason Owner, Owner's Agent or PSVH employee's may enter the Property with 24 hours' notice. There are vendors that access the property every week on a scheduled day(s), such as pool cleaning company, gardeners, pest control company, etc.
Registered Guest Initials

MAINTENANCE & SERVICE: The sand, heat, and wind of our desert climate create a tough environment for property mechanical systems. This can sometimes result in equipment failure. Every reasonable effort will be made to remedy unforeseen situations, and correct any problems in a timely manner as possible. No refunds or credits due to malfunctions in systems or equipment or other Licensee dissatisfaction. We reserve the right to inspect and service the property during your visit, including, but not limited to required weekly gardener service & pool service, arranged by homeowner. 
Registered Guest Initials:

RELEASE OF LIABILITY - HOLD HARMLESS AGREEMENT: Licensee(s) shall indemnify and hold harmless Palm Springs Vacation Homes LLC., its employees, shareholders, and the Lessor / Property Owner, free and harmless from any and all liability, claims, loss, damages, demands or expenses, including counsel fees and costs, arising (a) by reason of the death or injury of any person, including Licensee or any person who is a Licensee or invitee of Licensee, or (b) by reason of damage to or destruction of any property, including property owned by Licensee or any person who is a Licensee or invitee of Licensee, caused or allegedly caused by (1) any cause whatsoever while that person or property is in or about the Property or in any way connected with the Property during Licensees occupancy; or (2) any matter connected with Licensees occupation and use of the Property. 
Owner or PSVH shall not be liable to Licensee, its Licensees or invitees or any other person for any injury, loss or damage to any person or property on or about the Property. Licensee shall hold Owner and PSVH harmless and indemnify Owner and PSVH from and against all loss, injury or damage occasioned by the use or misuse or abuse of any part of the Property and from or against any omission, neglect, or default of Licensee, its guess, licensees or invitees.  You agree to indemnify and hold Owner and PSVH harmless from all liability, loss or damage arising from any nuisance or harm made or suffered on the Property by you, your Licensees or invitees, or from any carelessness, neglect, or improper conduct of any persons occupying or visiting the Property during your occupancy pursuant to this Agreement.
Registered Guest Initials:

EXCEPTIONS: Any exceptions to the rules and regulations as written herein must be approved in writing in advance by PSVH.
Registered Guest Initials:
 
AMENITIES: PSVH make every attempt to ensure the Property lives up to the cleanliness & amenities of the pictures and/or video as seen on PSVH's website. Naturally, some of the Property' s amenities will need to be replaced or changed over time and may not be the specific amenity shown in the pictures and/or video.
Registered Guest Initials:
 
FLOOR PLAN: The Property floor plan is for basic, informational purposes only. Please be aware that the Property may have a closet, pantry or small garage bay that is locked and used as an "owner's closet", and unavailable to Licensee.
Registered Guest Initials:
 
CANCELLATION/SUBSTITUTIONS, EXTRAORDINARY CIRCUMSTANCES, & CHANGES OF OWNERSHIP OR AVAILABILITY: Agent(s) strives to comply with all reservation requests for specific vacation rental properties. However, due to ownership changes, properties being removed from rental use, mechanical problems, or other unforeseen circumstances or maintenance items, Agent(s) cannot absolutely guarantee a specific rental property. Agent(s) reserve the right to change assignments without notice or liability if the property becomes unavailable. When comparable accommodations are not available, Licensee(s) will have the option of selecting from available properties at the published rate or receiving a complete refund of their reservation deposit. 

There may be circumstances in which the Property might not be available for your stay. Examples of these include (but are not limited to) destruction of or damage to the Property, changes in local occupancy regulations, or other reasons. In the event the Property is not available, for whatever reason, PSVH will do our best to make alternative arrangements for you where possible. If we cannot, or if the alternative arrangements are not acceptable to you, then we will refund all monies paid. This will be the full extent of our liability to you in such circumstances, and we will not be responsible for any other costs connected with any such cancellation, howsoever arising.
 
This is a privately owned property and PSVH is not liable for nor financially responsible for cancellation of this rental agreement prior to occupancy as a result of, but not limited to, the unexpected sale of the property by owner/lessor or a contract for a property rental that has been discontinued between owner/agent, or unexpected and unlikely mechanical problems or repairs that could make the property unavailable.
Registered Guest Initials:
Card Holder's Signature:
 
GOVERNING LAW, VENUE & TIME OF ESSENCE: This Agreement shall be governed by and construed in accordance with the laws of the State of California. Time is of the essence. Any legal action arising out of or relating to this Agreement shall be filed in a court of competent jurisdiction in Riverside County, Indio, California. 
Registered Guest Initials:

WAIVER OF JURY: The parties agree to waive any and all right to a jury in any legal action between them arising out of or relating to this rental agreement. 
Registered Guest Initials:

ARBITRATION: If the Licensee becomes dissatisfied for any reason with the Property or the fees charged, we encourage the Licensee to bring that to our attention immediately. We believe most problems can be rectified by communication and discussion. However, a dispute could arise which cannot be resolved by negotiation. We believe that such disputes are most satisfactorily resolved through binding arbitration rather than by litigation in court. Therefore, any controversy between the parties under this Agreement and any claim arising out of or relating to this Agreement or its breach, shall be submitted to binding arbitration in Riverside County, California before a retired judge or justice. If we are unable to agree on a retired judge or justice, each party will name a retired judge or justice and the two named persons will select a neutral judge or justice who will act as the sole arbitrator. The prevailing party in any arbitration or other court proceeding shall be awarded its reasonable costs and attorneys' fees incurred in connection with the dispute, up to an amount not to exceed $(PHONE NUMBER HIDDEN) Dollars).  Licensee confirms that it has read and understands the above paragraph regarding arbitration, and voluntarily agrees to Binding Arbitration.
Registered Guest Initials:

ENTIRE AGREEMENT: Except as they may be supplemented by additional PSVH policies, guidelines, standards, or terms for a specific product, feature, service or offering agreement, this constitutes the complete agreement between PSVH and Licensee and sets forth the obligations of the parties to each other. Any oral agreements or representations respecting the Property not expressly set forth in this instrument are null and void. All prior negotiations between the parties are included in this agreement. This agreement may not be amended, modified, or changed, except in a writing signed by Lessor and Licensee. 

I HAVE READ AND UNDERSTAND THE ABOVE RULES AND REGULATIONS FOR THIS PROPERTY.
 
I CERTIFY THAT I AM AT LEAST 25 YEARS OF AGE AND THAT I WILL BE HELD RESPONSIBLE FOR THE CARE OF THIS PROPERTY BEING RENTED UNDER MY NAME.
 
I ACCEPT FULL RESPONSIBILITY FOR DAMAGES OR EXTRA CLEANING CHARGES, SHOULD THEY BE DISCOVERED DURING OR AFTER DEPARTURE.


Accepted by Signature of Licensee/Responsible Party

Registered Guest Signature:
(Registered Guest Full Name)
(Accepted Date)
Card Holder's Signature:
(Card Holder Full Name)
(Accepted Date)

All of us at Palm Springs Vacation Homes are here to provide quality service and luxury vacation homes for you and your family and friends to enjoy. We also have a responsibility of maintaining a quiet and enjoyable place to call home for the neighbors around the vacation rental and the full-time residents of INDIO.

The INDIO Good Neighbor Brochure will also be emailed to you in a separate attachment in addition to being posted in the vacation home.

Please note that if at any time during your stay, the police, vacation rental code enforcement and/or a PSVH team member is required, because of a reported complaint or violation to any of the Rules and Regulations, there will be a $1,000 fine and may include immediate eviction, with no credit or refund.

Perhaps the greatest benefit is the pleasure of residing even for a short stay in one of our beautiful residential neighborhoods. You will be among many permanent residents who value the look and feel of a quiet and safe place to live. They, and the City, will look to you for your help in preserving that sense of peace and quiet. In short, being a vacation renter also means being a good neighbor.

WHAT YOU NEED TO KNOW
POOL TIME is one of the most popular activities to enjoy in INDIO. Please keep voices and pool activities to a reasonable level. Continued and ongoing screaming for an extended period of time is one way to disturb the neighbors. Please be thoughtful.

A PSVH Estate Manager will coordinate meeting you at the property to provide a tour of the vacation rental, review the instructions for all of the amenities and will review these rules. All guests will be required to print and sign stating they understand and will follow these rules for vacation rentals located in INDIO:

***MAXIMUM OVERNIGHT OCCUPANCY (10PM TO 9:59AM)
14 Adults, 2 Children under the age of 12 years old
MINIMUM FINE IMPOSED BY PSVH IS $500.00, INCLUDING POSSIBLE EVICTION

***MAXIMUM DAYTIME OCCUPANCY (10AM TO 9:59PM)
4 Adults in addition to the 14 Adults, 2
---
Суперстрогие 60
Если вы отмените бронирование за 60 дней до поездки или раньше, то мы вернем вам 50% всей суммы бронирования. Если бронирование будет отменено позже чем за 60 дней до поездки, то оно будет считаться невозвратным.
---
---
Минимальное количество ночей для бронирования этого жилья не фиксировано.
---
SUCH a great weekend staying at Monte Carlo! The pool and water slide were great. Plenty of space in the house for a big group of girls. We seriously had the best time and hope to be back again soon.
---
This house was amazing for a group of people, so big and airy! The pool oasis outside is dreamy and the water slide was a hit with everyone. The host was easy to communicate with and so helpful whenever we had questions. I would recommend this house to anyone looking for a relaxing trip with many hours poolside.
---
Josh and his crew were great to rent and work with. Very helpful and accommodating. Highly recommend for anyone looking for a great place to stay in the Indio area.
---
THIS IS NOT A REVIEW FOR MY MONTE CARLO-only for Palm Springs Vacation Homes We reserved My Monte Carlo in Jan. 2016 through Air B and B, managed by Palm Springs Vacation Homes (PSVH). We paid in entirety up front. And from that point on the communication was terrible. It took me 3 calls to PSVH to get confirmation the week of our reservation in March. I texted the host, Josh 2 hours before check in to make sure the house was ready. Silence. At this point we were getting nervous. I called him 40 minutes prior to check in and when he answered he told us "I have good news and bad news," we had to change houses!! What? Some miscommunication between PSVH and the other house. Unacceptable. But we had no choice, 14 people on their way. So we obliged but, he house we ended up in was nothing compared to what we reserved. And the host tried to play it up stating he had to pay out of his pocket for the "upgrade." So much went wrong: the house was pretty much bare, the host had to go buy essential items for it which took until 6PM. The house was smaller, no formal dining, no media room, smaller kitchen, slept 12 instead of 14. On Sat the pool men showed up with all of us in the pool (supposed to come Fridays)? and asked us to put the chlorine in later? This tells me the pool wasn't cleaned prior to our arrival. Josh allowed us late check out Sunday due to the mix up and someone from PSVH still showed up Sunday at 10AM to check us out. We have reserved homes from Airbnb on multiple occasions with no issues and have no bad word to say about them, but going through this management company PSVH is NOT the way to go. The host should never be difficult to reach and communication should be very open and honest. We spent a lot of time planning this special weekend. I gave 2 stars instead of 1 because as a group we enjoyed each other making the best of it, but I spent the time constantly thinking about what should have been and how much better this could have been dealt with. We truly felt like we didn't matter. As paying customers trying to communicate, we didn't matter. And we did not get what we paid for. It's really unfortunate as I would still LOVE to stay in My Monte Carlo at some point. But not if it continues to be managed by PSVH.
---
MISSION STATEMENT:

Palm Springs Vacation Homes is a vacation rental company that provides luxury homes, estates and event properties in high demanded locations in Palm Springs and the surrounding cities. It is our desire and goal to exceed all of our guest's expectations with the services that we deliver. the best service available to all guests who rent one of our privately owned homes while developing a true partnership with all the homeowners in our portfolio.

With over 20 years of combined hospitality and vacation rental experience, our team specializes in luxury and high-end accommodations while providing a five diamond experience to all guests and homeowners alike.

When you rent with Palm Spring Vacation Homes, you don't just rent a home, you purchase an opportunity to create memories and we are dedicated to ensuring that you love every minute of it and come back time and time again.

Языки:
English, Español
Частота ответов:
100%
Время ответа:
в течение часа
Открывайте новые возможности в г. Индио и поблизости
Другие варианты жилья в г. Индио: